We made 5,000 of these special tracts for our Memorial Weekend evangelistic endeavor; perhaps you will want to print a few thousand yourself and stamp your church's name in it. Click here to download and print them.
THE FRONT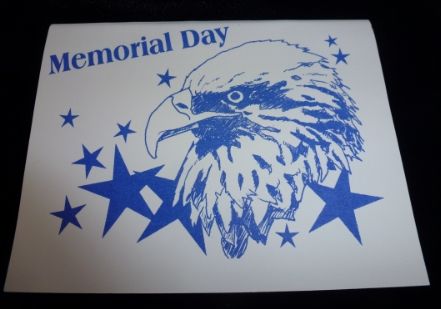 THE BACK
This is what they say:
ON THIS MEMORIAL DAY, you may know someone who has died in the service of our country. Many lives have been lost to secure the freedoms we currently enjoy as Americans. This holiday weekend, as you have barbeques with friends and family, as you relax and rest on this long weekend, please remember the price someone paid for you to live free. And, remember also that life is short.
My question to you is this: Where will you go when you die? Will it be Heaven or Hell? Many people think that they are good enough to make it to Heaven but the Bible says that "there is no one who does good, not even one." God will judge everyone by His standard of goodness, the 10 Commandments. Have you kept all of them perfectly? Let's check the standard to see how far you fall short:<
Is God first in your life? Do you love Him with all your "heart, soul, mind, and strength?" Have you made a god to suit yourself? Have you used His name in vain? Have you always honored your parents? Have you looked with lust and therefore committed adultery in your heart? Have you lied (including "fibs"), stolen (value is irrelevant), or coveted other people's possessions? If you are honest, you know you will be guilty on the Day of Judgment. If you break one Commandment, just one, that is sin, and one sin will condemn you to Hell.
God, however, doesn't want to send you to Hell. Jesus Christ suffered and died on the Cross so you could go free. That's how much God loves you. You broke God's Law, but Jesus paid your fine. He was buried for three days then He rose from the grave. If you repent (turn away from all the things you know are wrong) and trust in Jesus Christ alone, God will forgive your sins and grant you everlasting life. Then read your Bible and obey what you read.
This Memorial Weekend, remember that God demonstrates His own love for us in this: "While we were still sinners, Christ died for us."