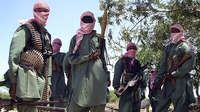 Asha Mberwa, a wife and mother of four, was killed for her Christian faith on Jan. 7 near Mogadishu by al-Shabaab Muslim extremists. Asha was arrested the previous day by the insurgent group, according to a relative reporting anonymously to Compass Direct News. She died when the militants cut her throat in front of villagers who came out of their homes as witnesses.
The relative, whose location was withheld for security reasons, said he had phoned her on Jan. 5 trying to make arrangements to move her family out of the area. "Al-Shabaab extremists, who control large parts of Mogadishu, were able to monitor the conversation and confirm that she had become a Christian," the relative said. Asha reportedly feared that she and her family were in danger.
Asha's relative said a "good Samaritan" in Mogadishu was caring for her children, ages 12, 8, 6 and 4. Asha's husband fled to an unknown location after Asha began receiving threatening messages.
Please Pray!
Pray that the Lord will bring comfort and peace to Asha's family, especially her husband and children. Pray for God's protection over Christians in Somalia as al-Shabaab is determined to rid the country of its Christians. Pray that somehow, whether through dreams and visions or through personal witness, the Lord would reveal himself to the Muslim militants and turn the tide of hate.
"And you shall be hated by all for My name's sake. But he who endures to the end shall be saved." Matthew 13:13
The Voice of the Martyrs assists Somali pastors in areas of intense persecution.
Every Wednesday I post something from Voice of the Martyrs' Be-A-Voice Network hoping you might join in helping those in other countries who are persecuted for their faith.