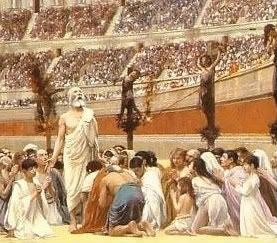 Given the cowardice of American Christians when sharing their faith, I must post weekly articles of Christians in other countries who actually suffer for their faith. Also, this may cause you to pray for the persecuted believers around the world who don't enjoy the freedom of religion that we squander here in the West.
In the wonderful book "The Case for Faith," Lee Strobel quotes John D. Woodbridge: "The typical Christian lives in a developing country, speaks a non-European language, and exists under the constant threat of persecution—of murder, imprisonment, torture, or rape."
Here are two examples:
North Korea
Activists in South Korea reported recently that communist officials in North Korea publicly executed a 33-year-old mother of three. Ri Hyon Ok, according to The Associated Press, was also accused of spying for South Korea and the U.S. and organizing dissidents. Following her execution, Ri's parents, husband, and children were sent to a political prison camp in the northeastern section of the communist country.
Click here to read the rest from OneNewsNow.
Bangladesh
It began with the family's attempts to make him leave the Christian faith and reconvert to Hinduism. If he did not reconvert, they argued, his parents' honor – in fact, the entire family's honor – would be destroyed.
If he left Christianity now before anyone else learned about it, he could continue to lead a normal life. But Dipesh was fixed on his decision. "Jesus Christ is the God-man who sacrificed His life for the salvation of mankind," he told his father. "I won't be reconverted into our false Hindu religion. I won't leave my Savior, Lord Jesus. If you kill me, you can kill me, I don't care because I have found the true God for my salvation."
It was all that Dipesh's family needed to hear. When they realized that he would not reconvert to Hinduism, they began hurling insults and savagely beating him. The abuse was so severe that Dipesh finally began losing his senses and fell to the floor. As he lay struggling for his life, he heard his father tell his brother that he was going to call the police and send Dipesh to jail. In the meantime, his enraged father promised, they would continue beating him until "the blood comes from his body. He is not my son." Click here to read the rest from Christian Freedom International.