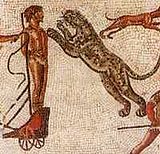 When I watch this video from The Voice of the Martyrs blog I can't help thinking of the lyrics of the Casting Crowns song, "Here I Go Again," as I reflect on the timidity of American Christians.
'Cause here I go again
Talkin' 'bout the rain
And mulling over things that won't live past today
And as I dance around the truth
Time is not his friend
This might be the last chance to tell him that
You love him
But here I go again, here I go again
What am I so afraid of?
Fellow believers in other countries actually have something to lose when they share their faith.
What goes through a Chinese Christian prisoner's mind on his day of sentencing? In a letter written from his prison cell, Shi Weihan allows us a rare opportunity to re-live with him the events of June 10, 2009. Shi, 40, a Christian bookstore owner in Beijing, was originally arrested by the Public Security Bureau (PSB) Nov. 28, 2007 along with one of his employees Tian Hongxia. He and his family have gone the through the ups and downs of the Chinese legal system since then. Click here to read his letter, as posted on the Open Doors blog.