Stephanie McCullough, rushed into management's office and politely asked for an application to set up a booth inside the mall.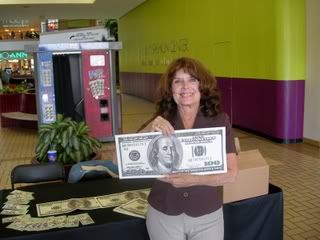 Stephanie felt that this was the ministry for her. She was undaunted by the 15-page application that she has to fill out every time she requests a table. It's worth it!

Why is it worth it?? Because hundreds upon hundreds of shoppers stop by, chat, take Gospel tracts—some even get saved!
The first time management set her up in the Galleria, they were very polite and accommodating. A nice black cloth was placed under her display, and three chairs were set up for other volunteers. She was then placed in a prime location: Under a stairwell, on a side-wing of the mall, with a huge sign selling shoes placed right in front of her table! Still, with all those hindrances, she and her volunteers handed out over 8,000 Gospel tracts.
And the really amazing thing?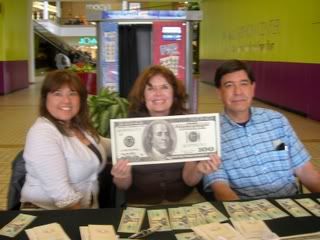 Other Christians can't wait to assist her on the next outing.
Stephanie told me this: "Before I learned "Hell's Best Kept Secret," I didn't know how I could be used in the Kingdom of God. Now I know my purpose… evangelizing the lost!"