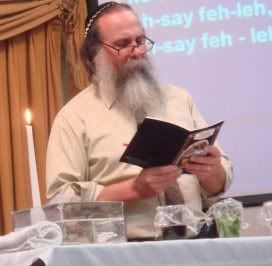 I have a friend, Rabbi Greg DeValera, who is a Messianic Jewish Pastor, and he's heading to Dearborn, Michigan today to share his faith and pass out Bibles to the 300,000 Muslims living in the area, especially at an Arab festival in Dearborn. Read what he wrote to me:
We leave Tuesday morning with a large group from Arabic Christian Perspective (ACP) to head to Dearborn, but even before we board the plane, there is already trouble.

The City of Dearborn has informed ACP that we cannot distribute tracts and Bibles ALONG THE PUBLIC SIDEWALKS of the city around the festival area. Apparently some of the locals who have attended the festival in the past were offended by our activities and have convinced the police that our activities should be restricted. A Christian public-interest law firm sent a letter to Dearborn yesterday informing them of our constitutional rights to do what we plan to do. Nevertheless, the police dept has threatened to arrest us if we attempt to talk to Muslims and give them literature in the public, taxpayer-paid areas of the festival grounds.
Please pray for Rabbi Greg and his team.