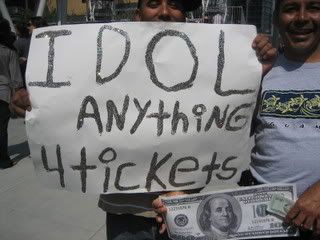 On Tuesday afternoon we will be experiencing an evangelistic double-whammy hootenanny: The American Idol Finals at the Nokia Theater, and right across the street, the Lakers will be at the Staples Center playing to win the Western Conference title.
Last year I encountered a line of about 4,000 people waiting to get tickets to see their favorite Idol and had the opportunity to preach nine times—up and down the line—until I nearly lost my voice. The line was literally a mile long! (You can read the story by clicking here.) I'm not sure if the same line will appear again, but we will be ready.
If the line doesn't appear at the Nokia then we will preach to the fans across the street at the Staples Center. You can read about last year's encounter when I was preaching from a traffic sign and forcibly pulled off by an angry man. Also, read about how Security forbade "Righteous Richard" from preaching in a planter box by clicking here.
I love L.A.!