When he's not complaining about how cold it is in Canada or how much snow he has to shovel from the roof of his house, Paul LaTour contributes witty, encouraging commentary to this blog and is a fervent Gospel preacher.
Paul sent me a few pictures about how things are done in the frozen North:
I'm just sending you these so you can get a gander and agree that I am a better-looking-gospel-giving-million-dollar-tract-giver-guy than you are. Not to mention…more humble.
I also wanna show you what Timothy 2:4 is all about here in Canada:: "Preach the Word; be prepared in season and out of season." Just so you know that in Canada we define "in season" as summer and "out of season" as winter. I much prefer the "in season".
This summer pic is me giving the gospel to a teen (one of many) at the National War Monument on July 1, Canada Day last year in Ottawa.

The winter pic is me doing the same at our city's annual Winterlude festivities a few weeks ago. See our cool million dollar bill? By the way: minus 20 degrees Celcius. That's like minus 5 degrees Fahrenheit. My nose fell off before I got home."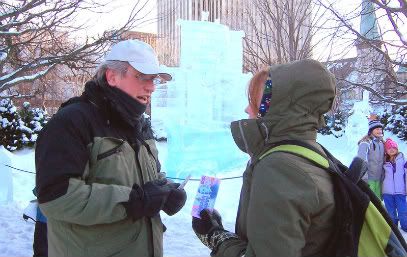 Come on up and give it a try and watch your breath freeze in front of your face before you can finish saying "Are you a good person?"