WHO ME? THE ANTICHRIST?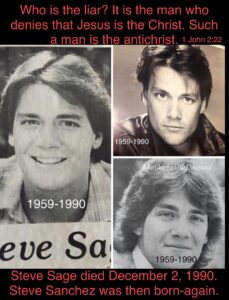 Yup. Whoever "denies the Father and the Son is the antichrist"—and I did that gleefully because I was the center of the universe.
"Dear children, this is the last hour; and as you have heard that the antichrist is coming, even now many antichrists have come." (1 John‬ ‭2‬:‭18)
Not only was I the antichrist, but so were you—until you gave your life to Jesus.
The sad fact is, the world is full of them. Your mom or dad may be the antichrist, or grandma, or, God forbid, your children.
Certainly your lousy boss is.
But you can alter their history by simply reminding them that, "No one who denies the Son has the Father; whoever acknowledges the Son has the Father also." (1 John‬ ‭2‬:‭23‬)
Someone altered my history on this day 32 years ago.
‭
Yes, Steve Sage, former actor, liar, murderer, adulterer, drug addict and thief perished in 1990 to nobody's regret.
Then Steve Sanchez was raised to new life by the Lord Jesus Christ—also on that day—when I trusted in Him for forgiveness and repented of my sins.
"As for you, see that what you have heard from the beginning remains in you. If it does, you also will remain in the Son and in the Father. And this is what he promised us—eternal life." ‭‭(1 John‬ ‭2‬:‭24‬-‭25‬)
——————————-
*Read the slightly longer version of my testimony posted in 2020, by clicking here.
** #JustAnotherDailyDevotional is based on my morning readings in The One Year Bible. If you'd like me to tag or text you them, leave me a Personal Message. (Or check in daily.)