A MINISTRY LEADER WAS CAUGHT OFF GUARD when a pastor asked her to do a reading of Scripture before the church service started. That's all. "Just a simple reading before he preached—no commentary, no embellishments, just read it and take my seat," said the writer for Christianity Today. "Why my sudden crisis of confidence? The text was Luke 3:23–38, the genealogy of Jesus, composed of 77 tongue-twisting names, requiring a solid two and a half minutes to read aloud from start to finish.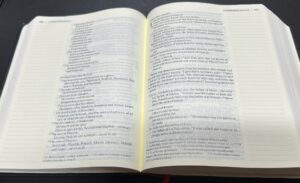 "The pastor, a dear friend, noted the look on my face and asked, 'Is it weird to read that before I preach?' Everything in me knew I should say no, but I wanted to yell, 'Yes! I'm just going to read these endless names and wander back to my seat in the awkward ensuing silence?'"
I can relate. Though I haven't yet read any genealogies to my congregation, I do have to slog through them in my daily reading of the bible. I just started 1 Chronicles in the Old Testament. There before me are nine chapters of names I'm not familiar with—nine chapters!!! Here's how to do it: Skim.
Now before you call me a slacker, a cheat, or a lazy Bible reader, please know that I've read through these names word-for-word at least once in the twenty-plus times I've read through the Old Testament. You need to as well. Why?
"All Scripture is given by inspiration of God, and is profitable for doctrine, for reproof, for correction, for instruction in righteousness, that the man of God may be perfect, thoroughly furnished unto all good words" (2 Timothy 3:16-17)" Those "boring parts" are also God's Word.
Pastor Rich Cathers of Calvary Chapel, Fullerton, CA., gives three reasons why the genealogies are in the Bible:
The Messianic Line: David had been promised that His descendant would sit on the throne forever. The Messiah would come through David. We see the connection here from David through Zedekiah. The book of Matthew completes the connection with the lineage of Jesus.
The Priestly Line: For the Israelite exiles, it was important to see that those they had as priests over them were legitimate descendants of Aaron, brother of Moses, the first priest.
A Phone Book: This is a Who's Who in the Old Testament.
It's also interesting to read through all the names and look for people you know. But when you see a name, be careful not to jump to any conclusions too soon because there are lots of people with the same name (ie., in 1 Chronicles 2:18, Caleb is not Joshua's buddy; he doesn't appear until 4:15). Also, there are often different ways that a name will be spelled (compare 6:22-30 with 6:33-38 which repeats the list, but backwards, changing spelling, even adding or leaving people out).
The bottom line? Be disciplined. Read them. You might even find something that's quite interesting like the "The Prayer of Jabez" (1 Chronicles 4:9-10):
"Jabez was more honorable than his brothers. His mother had named him Jabez, saying, 'I gave birth to him in pain.'
"Jabez cried out to the God of Israel, 'Oh, that you would bless me and enlarge my territory! Let your hand be with me, and keep me from harm so that I will be free from pain.'
"And God granted his request."
Nothing wrong with praying that prayer. Who knows? You may get the same results. God has answered this prayer for me, except for my arthritic hip! (But remember, this was for Jabez at that time. No guarantees.)
Writer Jen Wilkins says that there is one more thing we need to remember: "Every name points to our need of the One who bears the Name above all names. Every name, recorded and remembered by God, gives us assurance that our names are recorded and remembered by him as well. And because of this, we apprehend their worth and offer our gratitude for their preservation.
Our God is in the business of naming names. Read them and celebrate, for this—even this, especially this—is the Word of the Lord. Thanks be to God.