I looked to see what time "The Nativity Story" started as I peered into the ticket window at the local movie theatre, my two daughters in tow. It was two days before Christmas and now was the time to watch the film telling of the glorious birth of our Savior. One problem: it wasn't there anymore. The movie "Holiday" was playing, though.
Bah humbug!!!
I spoke to a roving Dickens Caroler taking a break…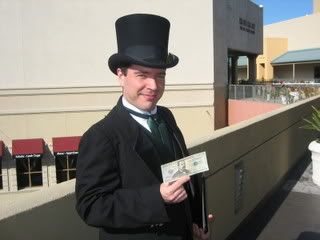 …who didn't have a clue about whether he was going to Heaven or Hell. I asked him if he thought that he had kept the 10 Commandments and he immediately said that he had, except for coveting. Ahhhh, the spirit of Christmas…
I took my girls to see Santa Clause in the main plaza of the mall, and they enjoyed the wonderful warmth, cheer, and love shared by all the consumers as they watched D.D. and Laurel sit on his lap under the glow of the artificial Holiday Tree.
Then Santa gave us his business card.
And we all enjoyed a very Merry Xmas.
—Steve Sanchez