I've been teaching our evangelism training, "Sharing Your Faith Without Fear," for nearly five years now and have never seen a level of commitment like I have with this latest class, the first of 2010.
The first big deal: Only two students dropped out. The 50% rule was overruled!
The second big deal: There were three first place winners! Pierre Cordero was #1, Eva Ho #2, and 12-year-old Cherish DelRosario was #3.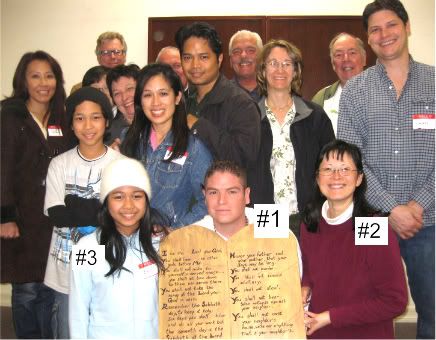 How can there be three first place winners?
Well, whoever gets the most points in the class usually wins. But this time there was an

added incentive: a hand carved 10 Commandments plaque. This was available to whoever got the most points ever, which means that someone had to break the previous record of a man named Richard Hidalgo (pictured at right) who held this record for a whopping 2 1/2 years.
Besides doing class work, which earns points, students get bonus points by writing a three sentence paragraph for each tract they hand out. These points are unlimited.
Which brings me to the third big deal: In a normal class, the average comments written under the post "What's Your E-vangie Tale?" numbers between 200-300. This latest class posted over 1,100 E-vangie Tales. Another record!
The fourth big deal: Richard's 2 1/2 year record of 233 points was smashed by Cherish with 360 points, Eva with 485, and the all-time high-scorer: Pierre, 611 points.
Which brings us to the three winners. All got first place prizes which include Ray Comfort CDs, books, sample packs of tracts and more.

But only Pierre got the top prize of the 10 Commandments plaque.
The big question: Will they continue to share their faith
now that there are no rewards—except in Heaven?

The next session of "Sharing Your Faith Without Fear" starts March 18!