Out of the 32 people who started "Sharing Your Faith…Made Easy!" only thirteen made it to the end. Was I disappointed? Of course.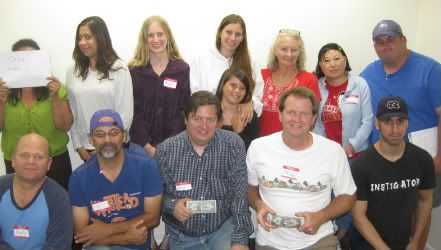 Would I have liked to have all 32 make it through? Of course. Am I saddened that most may not use the God-given tool that is almost guaranteed to unlock the heart of even the most hardened sinner? Of course.
But I believe in the principle of margin: a few here, a few there. In other words, thirteen more people have learned the biblical way to evangelize. Am I happy about that? Of course.
Our next class will be held from October 13—December 22!
The top of the class, Karen M., (3rd from left) was a rather shy, unassuming person who had the light bulb go on over her head when she heard the foundation of the course, "Hell's Best Kept Secret" taught over the 2 1/2 months. She assured me that she didn't even want to take the class, but said that she couldn't say no when I personally invited her. She told me that she would now like to go out with the team regularly.
Get my 10 week course for free by emailing me at PastorSteveAtHope@yahoo.com
Godfrey, the third place finisher (top right, blue shirt), had a few words of encouragement to offer this class. I hope many will take this to heart:
To all my Classmates,

Thanks for sticking it out and finishing the class. I know it's sometimes difficult to make it to class all the time, but I'm confidant that God will honor our commitment to doing His will. In truth the journey is just starting for us, so let's not forget the things we learned and keep on spreading the GOOD NEWS!! I certainly hope all of us will be found doing what Jesus told us to do when he returns!!!

Therefore, since we are surrounded by such a great cloud of witnesses, let us throw off everything that hinders and the sin that so easily entangles. And let us run with perseverance the race marked out for us, fixing our eyes on Jesus, the pioneer and perfecter of faith. For the joy set before him he endured the cross, scorning its shame, and sat down at the right hand of the throne of God. Consider him who endured such opposition from sinners, so that you will not grow weary and lose heart. (Hebrews 12:1-3)
Read two important articles on evangelism classes: