This little 2 minute video shows how easy and fun it can be to share your faith using Gospel tracts. At El Camino College I found a line of students waiting to get financial aid for tuition. I happened to have Gospel tracts in the form of giant $100 bills and million dollar bills; the students were all too happy to accept them… except one: An Atheist.

Living Waters has a great new presidential million dollar bill tract.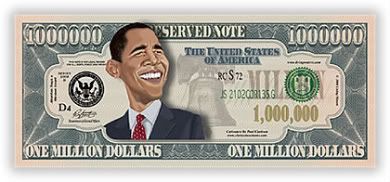 In addition to a great Gospel presentation written on the back there is also a pro-life message discreetly written next to the seal on the left front: "Abortion Stops a Human Heart."
In these desperate times, we need to preach life to the perishing in any way we can!