We've got some exciting evangelistic opportunities in store for those who join us in March:
March 7: The Redondo Beach Pier
This is a simple and friendly place to go to hone your evangelism skills. Meet at Hope Chapel at noon to carpool.
March 14: Hermosa Beach St. Patrick's Day Parade
Parades are always fun. Meet at Hope Chapel at 9:30 AM; parade starts at 11:00AM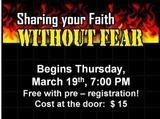 March 19: My next 6 week evangelism training starts. If you would like the teaching and student notes for your own class, send me an email. There's over a 100 pages of material!
March 21: Anti-War Protest on Hollywood and Vine

No guarantees of safety for this one. These people are against everything we are for. (Don't believe me? Click here.) Still, they need the Gospel, too. Mature Christians only. Prayer warriors needed. Meet at Hope Chapel at 10AM; the protest starts at noon. Helmets optional.
March 28: Redondo Beach Pier
(See above for more info.)