There were no party-poopers at the Fiesta Hermosa, a bi-annual pagan street fair that attracts nearly 100,000 visitors over the three day Memorial holiday. There were no issues with the police, and no trials and tribulations with the event organizers. The people were polite. All we needed were some furry animals… Wait! We had those… and we gave them away! People flocked to our evangelism booth in droves after we took down the sign that advertised our church (which is what we did last year)…

…and instead, put up a banner that said: FREE INTELLIGENCE TEST!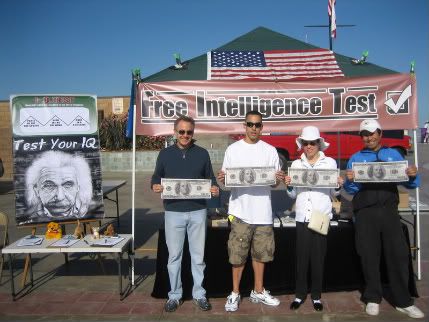 Our two booths were located outside the fair (click here to read why), and we had the time of our lives taking unsuspecting non-Christians (and a few "religious" people) through a hilarious questionaire that completely disarmed them and allowed us to transition to a Gospel message. Here are a few sample questions:
How many of each type of animal did Moses bring onto the ark?
Is it possible to end a sentence with the word "the"?
What is the name of the raised print that deaf people use?
(Get your own questionaires here. Answers are below)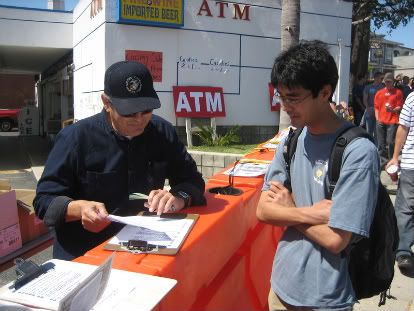 They would literally be lined up four or five at a time—trying their best to answer the questions. As a consolation prize, and after they heard the Gospel message, we would reward them with a Giant Hundred Dollar Bill Gospel tract or a Million Dollar Bill Gospel tract. We would also give the kids a stuffed animal or some inexpensive toys purchased from the Oriental Trading Company.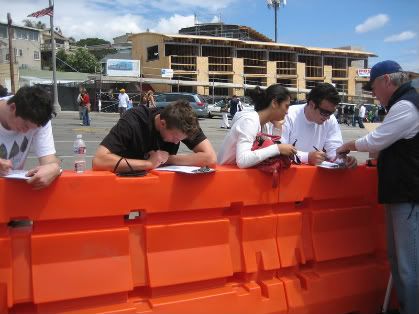 "Are you Scientologists?" one man asked when he saw the Giant Einstein I.Q. test (see below to get yours).
The best part of all this was having nearly a hundred volunteers man the booths, most of them non-evangelists—and they were able to share their faith fearlessly, boldly—and with a sense of humor…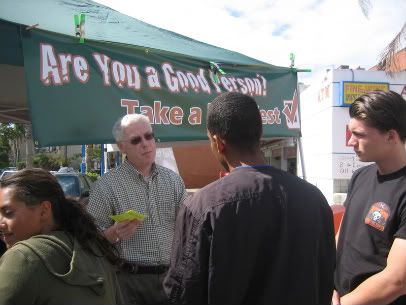 …while a few of us preached to the shuttle bus lines across the street.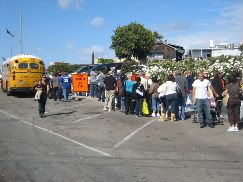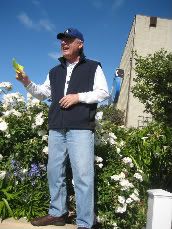 That's when we encountered a little resistance… Click here to read part 2!
(To get your Einstein graphic click here, then click on the Einstein I.Q. Test Poster link. Take the poster to Kinko's and order a 5′ x 3′ poster, put it on a backing, then go! This is a real attention-getter. Answers to the questions: 1) Moses took no animals onto the ark. 2) The question is an example of a sentence ending with "the". 3) Deaf people don't need raised print; blind people do.)