EDIT: SEE UPDATED MEETING TIMES BELOW. This parade is also known as the Hollywood Christmas Parade, and this will be the 5th year in a row that we have attended. Why is it the B-Lister Parade? Because many "stars" from Disney TV, old sitcoms and the Hollywood past ride in this parade—even former pop artists!—and we are always ready to give them a Gospel tract.
Last year Latoya Jackson got a tract: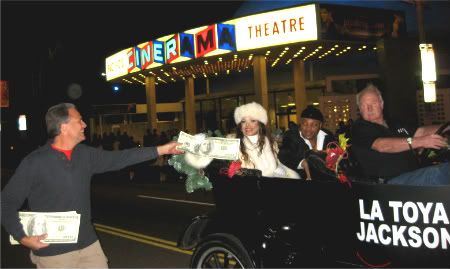 In the 2010 parade, Jason Earles and Boo Boo Stewart got the Gospel! I know what you're thinking: Who are those guys? Yep. We ask the same question every year.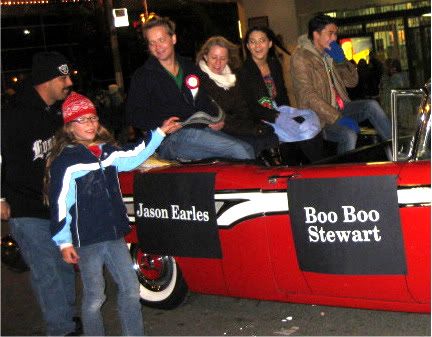 Montel Williams was a blessed recipient in 2009!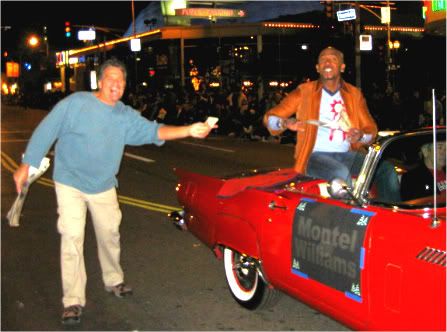 And in 2008 when we first started attending, we realized that the true gospel needs to be proclaimed, otherwise pretenders will dominate and try to steal converts for themselves.
Look what they did to Tom Cruise, for crying out loud!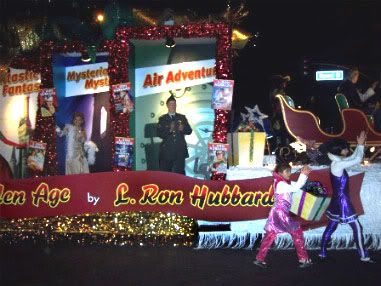 Please join us on Sunday, November 25, for this exciting event. Meet us at Hope Chapel at 3:30pm to carpool or met at the Hollywood Chic-Fil-A, 6750 Sunset Boulevard, on the corner of Highland and Sunset Blvd. at about 4:45pm. Chic-Fil-A meals will be on me! Need contact info? Leave a comment and I will email you back.
FOR NEXT YEAR: LEAVE AT 3:30 AND PARK AS CLOSE TO ORANGE AVE./SUNSET BLVD. AS POSSIBLE. THERE ARE EARLIER STREET CLOSURES THOUGH. LEAVE BOXES OF HUNDRED DOLLAR BILLS NEAR ORANGE AND SUNSET BY THE IN N' OUT BURGER TO RESTOCK OR LEAVE THEM NEAR THE CHIK-FIL-A ON HIGHLAND AND SUNSET.
WE PARKED FOR THE 2012 PARADE ON THE CORNER OF McCADDEN AND LEXINGTON JUST OFF OF HIGHLAND BECAUSE THE STREET WERE CLOSED AND WE COULDN'T GET TO THE PUBLIC PARKING BY GRAUMANS.  WATCH FOR NO PARKING FROM 6PM TO 6AM SIGNS. OK TO PARK IN AREAS FOR FREE WHERE THERE ARE NO SIGNS AND CAN PARK IN YELLOW ZONES ON SUNDAYS.