I have lived in Southern California for over forty-seven years and have not been to Venice Beach since I was 12-years-old; it was a nude beach then, so I had very good reasons for visiting as a pre-teen. I had another very good reason for going last weekend: Evangelize the lost! And man, there were so many of them, all so very strange…
My entire family came out with the evangelism team this time and we broke the ice immediately by handing out a Million-dollar bill Gospel tract to this friendly fellow, who would not be misnamed if known as Mr. Venice.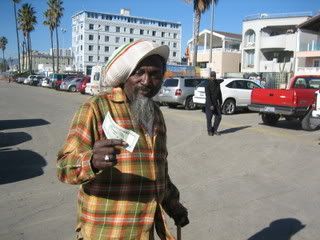 I went looking for a place to set-up our open-air preaching dummy, "Eutychus' Sis" while my wife Karen roller-skated off with our two little girls.
I helped out this poor man who was trying to earn an honest living…

…by giving him some cold, hard (phony) cash. I felt sorry for him because he needed a pot to boil water in.
This guy put the tract to good creative use!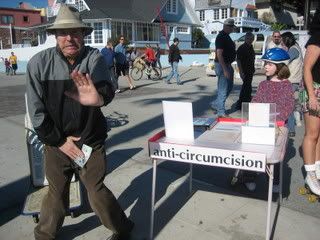 What a cut-up!
The fortune tellers, palm readers, and tarot card charlatans were all out en masse too!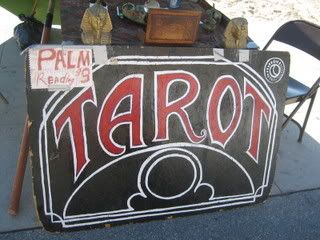 I really had to HAND it to this guy, though. He really knew how to make a HANDsome profit…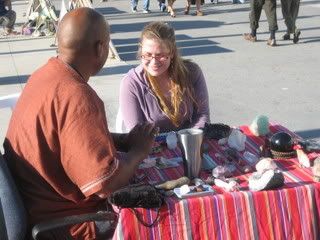 …hands down, er, up?
The good boy of Israel still calls everyone, everywhere to repent!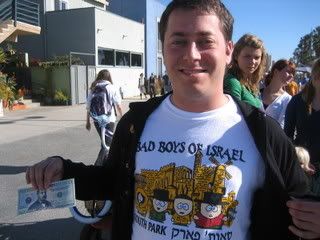 And He will indeed mock proud mockers…
This guy (yes, guy), took us all by surprise! Not just because this she was a he…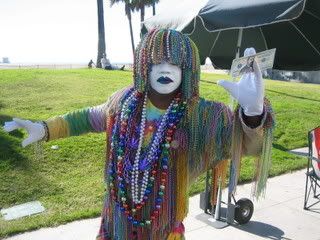 …but because after I had taken his/her photo, she/he stooped down and turned over a little hand-written sign telling us we owed him a dollar! "He's weird!" my daughter exclaimed. I didn't correct her.
I refused to take a picture of the little muscle guy wearing a leopard skin Speedo and holding a very large steel ball. "I need cash so I can buy a swimsuit that fits," he said. I steered my girls in another direction.
Finally, a sign for the good. A wonderful, normal Christian! Yahoo! Halelujah!

Alas! It was not to be! Turned out that he was some freemason protestor.

I gave him a Gospel tract, but he refused it by saying, "The real gospel is right here!" as he handed me some literature exposing freemasonry as anti-Biblical. There was nothing in the tract about people wearing big, round, pyramid signs around their necks.
Something's amiss here, but I just can't put my finger on it.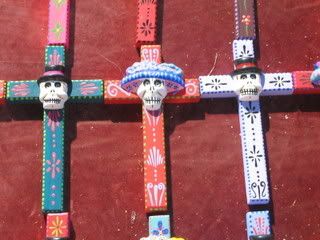 Ah, yes. Real crucifixes with ugly skulls aren't made of acryllic!
It really started to get strange, though, when I got up on my milkcrate and started preaching the Gospel message, luring the crowd in with trivia questions and free stuffed animals for right (and wrong) answers.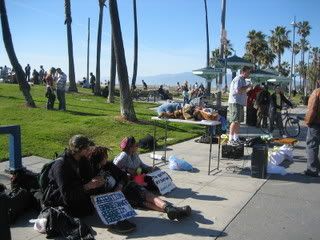 Why was it so strange? We were the only ones out there with the TRUTH! The punkers camped next to us were apalled and stayed silent, while the tarot card reader on the other side beat a hasty retreat when we asked people if they would go to Heaven or Hell.
Evangelist Richard Chavarria preached powerfully…

…and his interviewee was left speechless when she found out that she was not a good person because of her breaking the 9th, 8th, and 3rd commandments, revealing that she was a lying, thieving, blasphemer who would be found guilty on Judgment day because of her sin, and end up in Hell!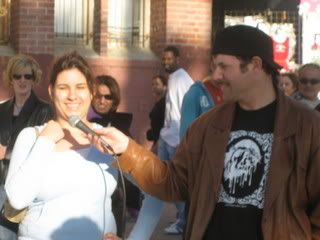 Gosh! She sure looks like a good person!
Val Scott, a newcomer to the milkcrate, stepped right on up after Richard and declared that all people can be forgiven of their crimes against God by repenting of their sins and trusting in the Savior.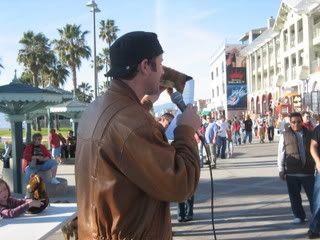 Yes, it's true. We too, could be considered very weird, strange, and odd preaching on a box, handing out bogus millions, and telling about a man–the God-man Jesus who lived two-thousand years ago, died on a cross, rose again, and lives today. I do believe that we were considered freaks…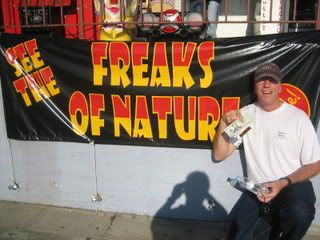 … Jesus Freaks!