I gotta admit, these days, with the way our government is going, it's getting a little harder not to fret when I see our once great country being ripped from its foundations.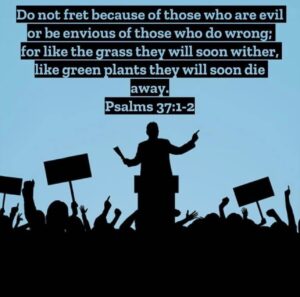 87,000 new tax agents give me little confidence. And they have guns.
The mental illness that is trans-affirmation shows that all common sense has disappeared.
The New Racism raising its ugly head proves that people have not learned from the past and Martin Luther King's comments have fallen on deaf ears.
Pregnancy Centers being destroyed in the name of death reflects the dark cult of those who want freedom without responsibility.
Censorship, election fraud, mass hoaxes, media collusion—really, nothing new under the sun. Every other country in the world has experienced fraud and corruption from the highest levels ever since the Tower of Babel was erected.
And no, just because America is now encountering the same tinpot dictatorship abuses of power usually reserved for Banana Republics does not mean Jesus is coming back soon.
So, what's a Christian to do?
Psalm 37:3-4 tell us:
"Trust in the Lord and do good; dwell in the land and enjoy safe pasture. Take delight in the Lord, and he will give you the desires of your heart."
‭‭
Should we take matters into our own hands? No!
Should we take to the streets and shout: "I'm mad as hell and I'm not going to take it anymore?" No!
This:
Psalm 37:7: "Be still before the Lord and wait patiently for him; do not fret when people succeed in their ways, when they carry out their wicked schemes."
‭‭
"What good will that do?" you ask.
Really? You mean that the God of the universe cannot take care of business?
Our job is to "Refrain from anger and turn from wrath; do not fret—it leads only to evil." (Psalms‬ ‭37:8‬)
Tough to do when we see so much going wrong. But here's the great promise:
‭"For those who are evil will be destroyed, but those who hope in the Lord will inherit the land. A little while, and the wicked will be no more; though you look for them, they will not be found." (Psalms‬ ‭37:9-10‬)
Hang in there, believer!‭