This Saturday we will be headed for Venice Beach where we start the day off by preaching to an outdoor beer garden (where I got splashed in the face one time. See the video here). Then we stroll down the walkway and witness and preach at will. It is a very strange and diverse crowd that we encounter there. Want to come? Meet at Hope Chapel at noon to carpool, or meet us at the Rose Ave. parking lot about 1:15.
Now read a strange story I wrote in February of 2007 when I visited Venice Beach for the first time since I was 12-years-old, below.
VENICE BEACH IS STILL VERY WEIRD
I have lived in Southern California for over forty-seven years and have not been to Venice Beach since I was 12-years-old; it was a nude beach then, so I had very good reasons for visiting as a pre-teen. I had another very good reason for going last weekend: Evangelize the lost! And man, there were so many of them, all so very strange…
My entire family came out with the evangelism team this time and we broke the ice immediately by handing out a Million-dollar bill Gospel tract to this friendly fellow, who would not be misnamed if known as Mr. Venice.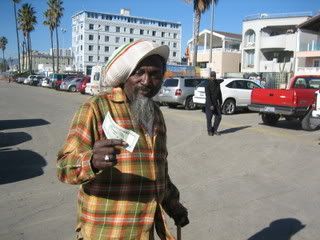 I went looking for a place to set-up our open-air preaching dummy, "Eutychus' Sis" while my wife Karen roller-skated off with our two little girls.
I helped out this poor man who was trying to earn an honest living…
…by giving him some cold, hard (phony) cash. I felt sorry for him because he needed a pot to boil water in. (Read the rest by clicking here!