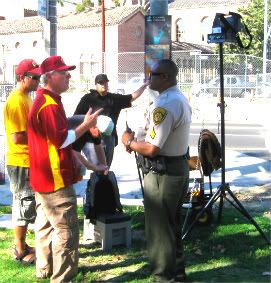 Two weeks ago our team was punted from the grounds surrounding the L. A. Coliseum by the State Police because we didn't have a permit for amplified sound. Despite the fact that tailgaters all over the premises blare their sound systems at interminable decibel levels, the evangelists were singled out.
The interesting paradox is that hundreds, if not thousands, of game day party-goers cross over a main intersection from the USC campus with open containers, half drunk or full-on drunk while the LAPD, the security officers, the state police, and the civilian guardians  look the other way. Last time I checked with this was
still illegal! Yet open containers abound; that's why we preach the word! And that's why we get stopped—frequently. Could it be that the powers that be over at USC have a little influence?
We have a solution this time. An alternative plan. Will it work? (Sorry, can't tell ya right now.)
Meet at Hope Chapel at a Special Time, 9am, to carpool. Game is at 12:30pm.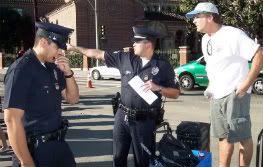 You may want to go the TRANSFORMED Conference featuring Ray Comfort and Kirk Cameron in Garden Grove instead. It's safer too! It's also free and is a jammed pack 4 hour event. Session times are 8:30am -12:30pm & 1:30pm – 5:30 pm. Click here for details and directions.