On Thursday we're planning a little trip to the Staples Center to preach to the enthusiastic crowds attending the NBA Finals. (There is another team waiting to preach in Florida, too, when the game arrives.) There is usually a strong police and Security presence, so we'll be on guard—and on our best behavior to win some. (Read last year's adventure when I got pulled off a street sign forcibly by clicking here.)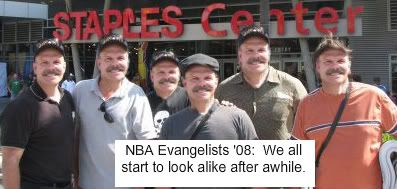 Meet at the Staples Center between 4-4:30PM. Park in any lot for about $10 and look for us. If you need my cell, leave a comment.
On Saturday we are going to test Jesus' words by preaching to the rich and beautiful in the very wealthy hills of Palos Verdes at their Summer Street Fair.  We desire to see the rich get a fighting chance for Heaven even though it is very hard for them to enter in! We interviewed a hypnotist there last year (see it here!). Meet at Hope chapel at noon to carpool.