The last several weeks we've been discussing whether it's appropriate to urge an immediate decision when presenting the Gospel to an unbeliever. Is it right to "close the deal" when you sense that the person you've been speaking with understands the Gospel and is concerned about going to Hell?
In part one I posted an article that said it's enough just to give the message; the Holy Spirit will "close the deal."
In part two I wrote about how the famous 19th century evangelist, D. L. Moody, who presented the Gospel to over 100 million people by voice and the written word, urges an immediate decision.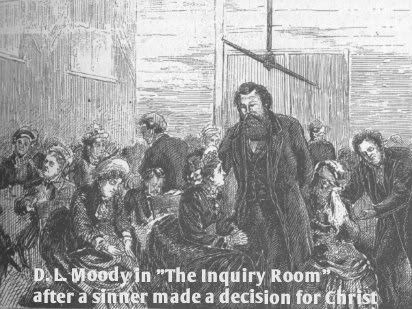 Why such urgency? Why was it so important for Moody that a person profess Christ right away? Is his opinion applicable for today's evangelist?
I think it is.
The same truth that caused Moody to urge an immediate decision for Christ back then is still true today: sudden death. Not so sudden death. Death in general—and a lost chance to witness.
It was a Sunday night in 1871 when Moody preached to a full house on this subject: "What then shall I do with Jesus which is called Christ?" At the end of his message he said, "I wish you would take this text home with you and turn it over in your minds during the week, and next Sabbath we will come to Calvary and the Cross, and we will decide what to do with Jesus of Nazareth." His worship leader, Ira Sankey then sang this song:
Today the Savior calls
For refuge fly
The storm of justice falls
And death is nigh
The sound of fire engines drowned out his voice as the Great Chicago Fire swept through the city driven along by a southwest wind of near hurricane force. The fire lasted from Sunday till Wednesday and destroyed Moody's house and his church as well as a great portion of Chicago itself.
Twenty-two years after the Fire, Moody reflected on the message he spoke shortly before the Fire broke out: "I have never seen that congregation since, and I never will meet those people again until I meet them in another world. But I want to tell you of one lesson I learned that night, which I have never forgotten, and that is, when I preach, to press Christ upon the people then and there and try to bring them to a decision on the spot…I have asked God many times to forgive me for telling people that night to take a week to think it over."