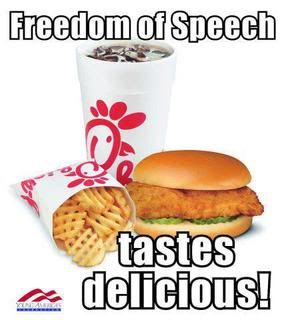 These are the words spoken by Dan Cathy, CEO of Chick Fil-A, that has caused so much trouble:
"We are very much supportive of the family — the biblical definition of the family unit. We are a family-owned business, a family-led business, and we are married to our first wives. We give God thanks for that."
"I think we are inviting God's judgment on our nation when we shake our fist at Him and say 'we know better than you as to what constitutes a marriage,' and I pray God's mercy on our generation that has such a prideful, arrogant attitude to think that we have the audacity to define what marriage is about," he said on the radio program, "The Ken Coleman Show."
I for one, am of the opinion that in a free country, with the right to free speech, that one may exercise that freedom in a gracious fashion even if it is politically incorrect.
But I agree with many that Dan Cathy was wrong—dead wrong—in part of his comments though.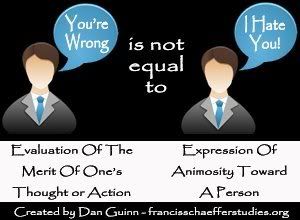 He was wrong in this statement:"I think we are inviting God's judgment on our nation when we shake our fist at Him…."
No. Homosexual marriage is God's judgment on those who shake their fists at him.
Because of this, God gave them over to shameful lusts. Even their women exchanged natural relations for unnatural ones. In the same way the men also abandoned natural relations with women and were inflamed with lust for one another. Men committed indecent acts with other men, and received in themselves the due penalty for their perversion. (Romans 1: 26-27)
The murder of innocent millions in this country by abortion is a sign of God's judgment.
Furthermore, since they did not think it worthwhile to retain the knowledge of God, he gave them over to a depraved mind, to do what ought not to be done. They have become filled with every kind of wickedness, evil, greed and depravity. They are full of envy, murder, strife, deceit and malice. They are gossips, slanderers, God-haters, insolent, arrogant and boastful; they invent ways of doing evil; they disobey their parents;they are senseless, faithless, heartless, ruthless. Although they know God's righteous decree that those who do such things deserve death, they not only continue to do these very things but also approve of those who practice them. (Romans 1: 28-32)
I will take time out of my day on Wednesday to eat at Chick Fil-A to show my support for the American Way, the right to express oneself freely, whether it's popular or not.
And because I care for those who will be kissing each other to show their support for their cause on Friday, I'll exercise my freedom of speech a bit more vocally, in a gracious, respectful and gentle way, of course.
I will tell of the great love that God has for the homosexual community. I will speak about how he demonstrated that love by dying on a cross for their sins, by being buried for three days and rising again. I will explain that because they have broken God's Commandments by lying, stealing, hating and lusting—it's not just homosexuality—that they will face an eternity in Hell, unless they repent and trust the Savior.
If a gay person should object that he/she was born homosexual, I will softly reply that is why God commands us to be born again.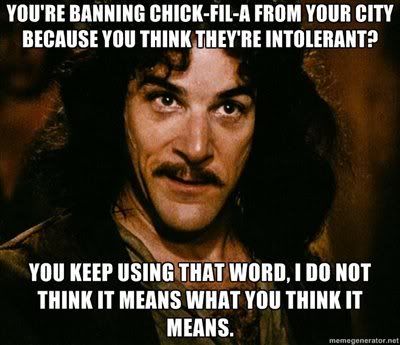 Alan Noble asks in his article, "The Chick-fi-Asco: Why Boycotts are Awful": How exactly is Chick-Fil-A discriminating? Then he lists these five answers.
One of the worst parts about this debacle has been the way that all sides have glossed over or willfully misrepresented how Chick-fil-A discriminates against homosexuals. It seems like both sides are more concerned with winning the war than with its legitimacy. Various sources have claimed that this is all about:

Dan Cathy's personal views on marriage.
Dan Cathy's personal views on homosexuality.
Chick-fil-A's company-wide political stance on gay marriage.
Chick-fil-A's giving to anti-homosexual organizations.
All of the above.

The correct answer is… #5. Sort of. Let's work through these options briefly to sort out what's really at issue here.
Please click here to read the rest of this article to sort out the real issues.