The Los Angeles Mayoral race is on!
Two candidates, Wendy Greuel and Eric Garcetti, are vying for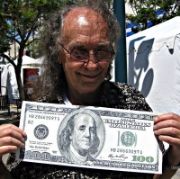 the top slot in America's 2nd largest city. Who will win? More importantly, how do they currently stand before Christ?  The bigger question is not whether the people elect them, but has God?
When I gave each a Giant Money Gospel tract and a firm admonition at the last Golden Dragon Parade a few months back, here were their reactions as revealed in these two 17 second videos:
ERIC GARCETTI: ELECT?
WENDY GREUEL: ELECT?
So…are they the elect? If they profess Jesus Christ as Lord and Savior, and repent of their sins, yes!
If not, no.
Simple as that.
No recount needed.