I notice a bunch of drunken kids bunch driving their convertible down a dirt road, exceeding the speed limit. I know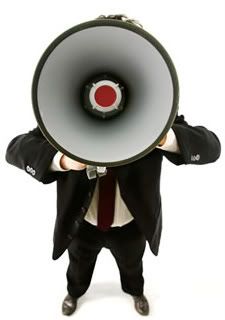 for a fact that the bridge is out a half mile down. Out of love and compassion I stand on the shoulder with a sound system and jump up and down, warning  them that they will soon plummet over a thousand foot cliff.  If they don't stop and turn around, or at least slow down and examine the situation, they will fall to their deaths.
The kids laugh and point their fingers. One throws a Diet Coke can at me.
I shout into my megaphone: STOP! BRIDGE OUT! BRIDGE OUT!
Speeding up, they turn on their stereo and sing loudly to the Eagles' "Life in the Fast Lane" passing me by. One kid pulls out a pistol, leans out over the back of the trunk, and points it at me.
I stop shouting.
I hear their mocking laughter resonate as they drive over the cliff to their deaths.
I warned them.
Another car barrels down the road. Jumping up and down hysterically,  I rush into the road and scream into my sound system: STOP! BRIDGE OUT! BRIDGE OUT!
The driver rolls her eyes yet slows the car down a little and stops right before going over the edge.
I warned her. She investigated the evidence and was saved.
A third car, a large station wagon with wood on the sides, and luggage on top, sees my frantic display, stops suddenly and turns around, no questions asked.
I warned them. They believed me.
This is why I preach Christ; so that some may not perish. No matter how ridiculous I look to the unbelieving world.

Charles Spurgeon wrote: "To be laughed at is no great hardship to me. I can delight in scoffs and jeers. Caricatures, lampoons, and slanders are my glory. But that you should turn from your own mercy, this is my sorrow. Spit on me, but, oh, repent! Laugh at me, but, oh, believe in my Master! Make my body as the dirt of the streets, but damn not your own souls!"
Read my other analogy, "The Drowning Woman," by clicking here.