I needed to get the money shot….
My wife had only one request when my daughters and I attended the 2011 Tournament of Roses Parade: Get a picture of the Mustang Monument float where Madeleine Pickens, wild horse advocate, was riding.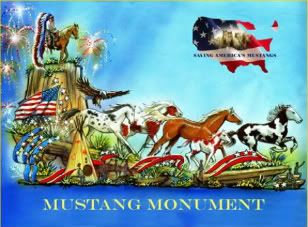 My wife has been concerned for awhile now about the plight of the wild horse

population in the States. The Bureau of Land Management has been systematically eradicating these great symbols of the American West to the point where there are very few of these beautiful creatures running free. Madeleine has been trying to bring an awareness to this cause using many methods, one of which was to sponsor a float that championed wild horses.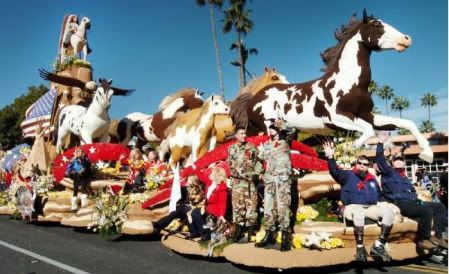 Who's her husband? T. Boone Pickens, oil magnate and billionaire, who finances this

worthy cause and many others. The challenge? Get our Giant Money Gospel tracts into their hands, along with a few million dollar bill tracts, take a picture and tell them we are praying for them. Did we do it?
My girls and their friend Amy were poised and ready for action. "There it is, girls!" I shouted.
"Awww, Dad. That's not it."
"Wait! There it is, now!"
"No, Dad."
(I didn't see the float ahead of time, so I didn't know what it looked like.)
"There it is! There it is!" I yelled again. This time I was right.

The float actually stopped right in front of us, giving the girls time enough to run into the parade and give out their Gospel tracts.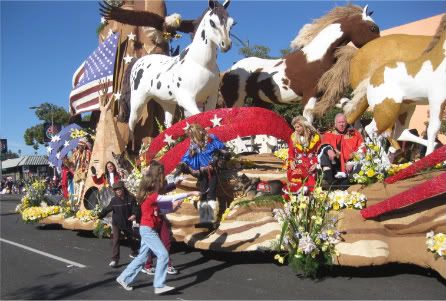 After a quick mix up, we asked the lady in blue if she was Madeleine? She pointed to the woman in red. "That's her." And there she was, sitting right next to her husband, T. Boone.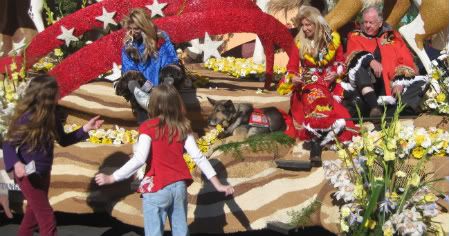 You're probably wondering: Did we get the money shot? You bet. My wife was so proud of me.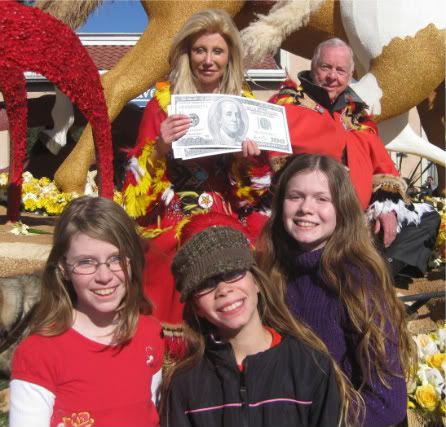 Who knows? Maybe they'll read that precious gospel money and turn to the Lord fully. Then, not only will they use their God-given resources to save horses… but people, too.
Hey! Click here to read what T. Boone said to me when I handed out the tracts, and what his wife wrote when I contacted her on Facebook by clicking here.

*****
If you'd like to find out more about what's happening with America's wild horses, click here for the American Wild Horse Preservation Campaign.
(The entire float photo (3rd in the post) is from Jim & Kris Sanders REEL Ideas)