IT'S TIME TO MAKE A STATEMENT! Do the very rare thing that has been long forgotten. Show that you are different, "Contra Mundum." Be a quiet rebel by carrying one simple object that declares, "This is the way; walk in it!" Students, bring your Bible to school on Thursday, October 3, to show that you are not afraid, that you are a person of The Book and that you are the generation that will make a difference for God and country.
Because the adults have dropped the ball.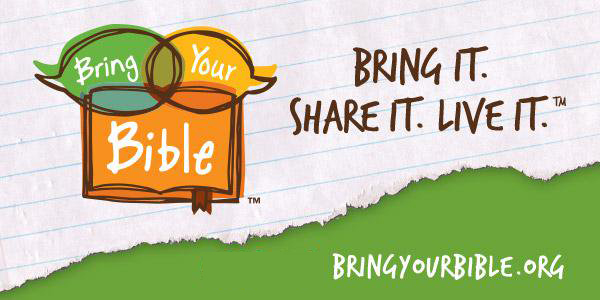 In a 2019 study conducted in partnership with the American Bible Society, the Barna Research Group found that only 5% of adults interact with the Bible frequently, and that it has transformed their relationship with God and others.
Sadly, 48% of adults said that they interact with the Bible infrequently, if at all, and that it has minimal impact in their lives.
Even more concerning, religious freedom in America is under threat as believers face an ever-increasing secular culture. Our nation's Christian heritage is being forgotten—even denied—and our right to worship and live according to Christian conscience will soon be legislated.
Focus on the Family established "Bring Your Bible to School Day" as an annual nationwide religious-freedom event with students around the country leading this effort in their schools. Their purpose is to "equip and inspire Christian students to be a voice of hope, understand their religious freedoms, and share biblical beliefs in a loving, respectful way."
The Bible says, "Don't let anyone look down on you because you are young, but set an example for the believers in speech, in conduct, in love, in faith and in purity." (1 Timothy 4:12) This is an opportunity to be a godly example.
It is not illegal to read the Bible or pray at public schools. Students have the right to talk openly about their religious views, can pray, or read the Bible—they can even invite other classmates to join them—as long as students voluntarily participate and lead these activities, and are not disruptive during classroom time.
It is also not against the law to distribute religious-themed materials at a public school. Schools cannot ban these types of materials if they already allow students to pass out non-religious materials.
Why is the Bible so important? Why should you advertise it by bringing it to school? Look what it can do for you: "Your commands make me wiser than my enemies. I have more insight than my teachers. I am even wiser than my elders for I have kept your commandments. I have refused to walk on any evil path." (Psalm 119: 97-101) For those promises to happen, it's imperative that you actually read it and not use it as a coaster to put your Red Bull on. The great preacher Charles Spurgeon (1834-1892) said, "There is dust enough on some of your Bibles to write 'damnation' with your fingers!"
Be like the faithful American leaders of old and read your Bible! John Quincy Adams, our sixth president stated, "So great is my veneration for the Bible that the earlier my children begin to read it, the more confident will be my hope that they will prove useful citizens of their country and respectable members of society. I have for many years made it a practice to read through the Bible once every year."
Abraham Lincoln said, "I believe the Bible is the best gift God has ever given to man. All the good of the Savior of the world is communicated to us through the Book."
In these irreligious days when our freedom to worship a can be swept away in simply one election cycle, we need to heed the words of American Founding Father Patrick Henry, who not only said, "Give me liberty or give me death," but this as well: "The Bible is worth more than all other books which have ever been printed."
If you feel the same way, take a stand this Thursday, October 3, or any day of the week, and Bring Your Bible to School.
*For more information about this event, go to www.bringyourbible.org