It's been two weeks since my return from Vietnam. (Read part 1 by clicking here.) I thought that for today's post I would show nine evidences that there is a God. And I do mean show. At the end of this article I will provide the concluding statement in which no one will be able to argue. Here goes….
Why would a team of nine visit a Third World nation in southeast Asia? To make God known through the kind things He does through us, to show his love to a people who do not yet know him so that they might know Him.
In a backwards village, not unlike those types you see in a National Geographic magazine, we encountered a huge crowd of grateful ethnic Bru people awaiting us with a welcome banner.
Hope Chapel is known in certain parts of Vietnam because of the love we show the Vietnamese people, because God loves the Vietnamese people as shown through his common grace. For eighteen years faithful Christians from our church have visited this country and here are a few of the things that He has done through us:
Proof #1 that God exists: We distributed food stuffs—necessities like cooking oil, bouillon and sugar along with scholarships—to the top students in this village. They even took the cardboard to use as mattresses and lining for their shanties.
Were they glad that God visited them through us? You bet!
Proof #2 that God exists: At the Chanh Phu Hoa Center for the Destitute we distributed care packets to about 600 of the several thousand indigents. The center's residents were mostly handicapped, aged, or mentally ill.
The camp was made up of barracks built on an old rubber plantation outside the city and forsaken by the rest of civilization. Each resident was assigned a three by five concrete slab for bedding and each given a plastic tray for daily meals.
We were greeted with resounding applause as we entered each room. If only everyone responded to God's kindness in this way.
Proof #3 that God exists: Hope for Vietnam has been supporting children of Ben San Leper Colony patients for
over 10 years. We encourage them to continue schooling. The average resident at Ben San has an education comparable to a 5th grader. After 5th grade, most students must attend school outside the colony's boundary where they typically experience drastic discrimination. Most therefore quit school.
Medication to heal leprosy is limited at best in Vietnam and, sadly, most of these families cannot afford the lengthy treatment it involves.
Through gifts such as scholarships, tuition and textbooks, we allow the students to attend schools farther away, reducing the risk of being persecuted by a community who doesn't understand their condition. Ostracized and considered "untouchable", children of the lepers appreciated our team's visit even more than our gifts or scholarships. (The photo at right shows how valuable one page from a coloring book can be.)
These children experienced persecution even while not infected.  Bicycle donations allow the children from the colony a quicker way of getting to and from school to avoid dangers on the streets. (The little girl second from left shows signs of encroaching leprosy on her face as evidenced by the darkening of her skin.)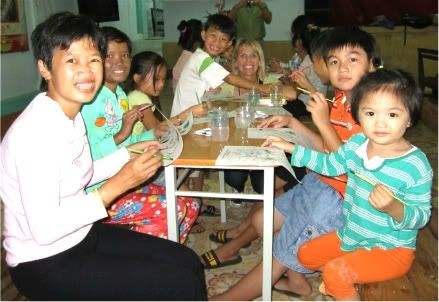 Proof #4 that God exists: The Vietnamese government was very gracious in allowing us to distribute scholarships, textbooks and uniforms in their schools.
In fact, the government would host wonderful "Tea Ceremonies," inviting us to enjoy their company on occasion.
Proof #5 that God exists: God provided, through our team, water filtration systems that were installed at another government school so the students and faculty could drink fresh, uncontaminated water.
Proof #6 that God exists: God, through the generous giving of his people at Hope Chapel, revealed himself by having many water wells dug in remote villages so that people would not have to travel miles to quench their thirst. Perhaps this was a small taste of the Living Water that was yet to come?
Proof #7 that God exists: God also used the generous giving of Hope Chapel to build tanks for Cat villagers so they might capture rain water for drinking and cooking. Prior to having these tanks, villagers had to haul water from a polluted stream some miles away.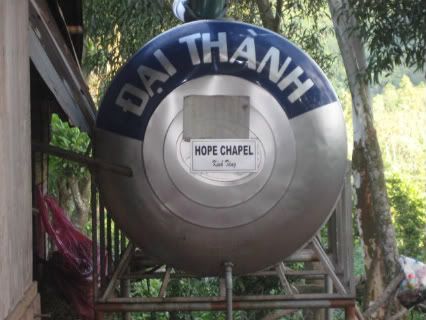 Proof #8 that God exists: God wanted to make His love known to those who use their bodies to make a living. We took sex workers on a bus trip to the beach, had lunch with them in a fancy restaurant, and taught them…beading, of all things!

This was the toughest ministry moment for us on our last day. This was a group of young homeless street mothers (and their pimps). They were in their late teens to early twenties and had grown up as children of the street. Starting out as street vendors, most graduated into pickpocketing and then prostitution. Many have had multiple abortions.
Through Hope for Vietnam, these women decided to carry their last pregnancies to term instead of aborting or selling their babies. Most were at different stages of rehabilitation from life on the street. All were hardened with distrust and given to foul language and quick outbursts of anger. However, they showed great tenderness to their babies. Many confessed that their lives changed when they gave birth, stating that their new goal was helping their babies escape from life on the street.
Making God known to these people was a wonderful thing. But here's the final proof…
Proof #9 that God exists: The main proof that God exists is found in this verse from Matthew 5:
"… let your light shine before others, so that they may see your good works and give glory to your Father who is in heaven."
A people who do not know God will give glory to our Father in Heaven as a result of the good things we have done.
That's why we do it.
What further proof do you need?
We did a whole lot more, but I think you get the idea….