What's it like to preach the Gospel to leftist radicals reliving their glory days of the long-past 60's? Just what you'd expect—only more so.

Grandmas in tie-dye, gray-bearded-wild-eyed uncles with chips on their shoulders, and a whole slew of rainbow-wearing wannabes with scowls were gathered for the A.N.S.W.E.R. LA free-for-all protest march down Hollywood Blvd.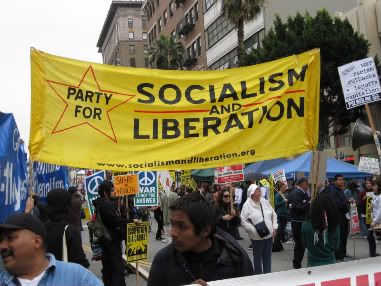 Now, I want the war to end. I'm tired of the conflicts around the world; I want peace, too. I want reconciliation. But the groups out there that day had other agendas. So we brought our own agenda: We proclaimed the news of a God who made a way for all rebels to be reconciled to Him.  
Make no mistake about it, these people wanted no part of the Gospel of salvation. They didn't care about the fact that God had a standard—The 10 Commandments—by which He would judge them, no matter how "good" their causes were.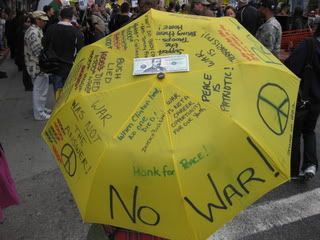 No, if they had ever lied, stolen, or misused God's name—even one time—He would see them as lying thieves and blasphemers. On Judgment Day, all protesters—and all non-protesters—if found guilty of sinning against a holy God by breaking any one of the Commandments would end up in Hell as punishment for their sin. God would even judge the very motives of their hearts—no matter how well-intentioned: Lusting in the heart is equal to adultery in God's eyes, hatred murder… and so on and so on. One Commandment broken is enough to send them to Hell. Just one!!! That's bad news indeed!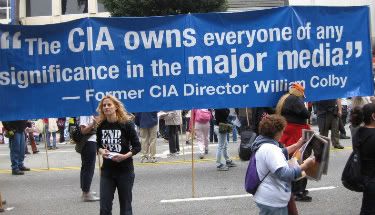 The biggest conspiracy at this hippie hoedown was that most everyone had to agree that God doesn't exist, and if he did exist, he wouldn't judge any of their actions.
But 10 evangelists "invaded" this protest to bring them news of real peace, a lasting peace, peace with God. We wanted all of the people to know that they had access to true power, a power that has already been proven to defeat their greatest enemy: Death.
We came with a message of true love.
While other "Christians" were there shouting hate-filled slogans while holding their Bible signs, we had another message: All who would acknowledge their sin against God, all who would repent and put their trust in Jesus Christ, would be forgiven and granted everlasting life. All of us at one time were His enemies, children of wrath, protesting against the Author of Life, until our eyes were opened.
We came to give these well-meaning but terribly confused people a fighting chance for Heaven. "God demonstrated His love for us in this: While we were still sinners, Christ died for us."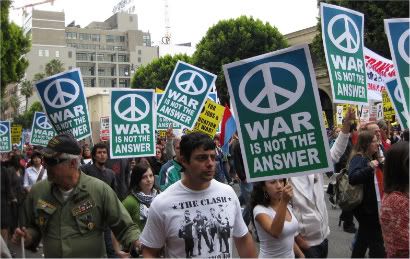 How did we get this message across? Well, we had to employ a little subversive action of our own….
***Stay tuned. We've got video, photos, and a little terror to expose… READ PART 2 BY CLICKING HERE!***