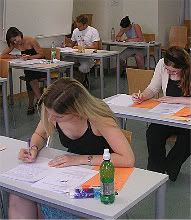 Phew! I just took this survey from The Pew forum on Religion and Public Life and scored 100%, thankfully. It's interesting to note that I scored better than 99% of the public. (It's a very simple 15 question test, really.)
How well do you think you'll do? According to the article below atheists and agnostics did pretty well, outperforming Protestants and Roman Catholics.
Take the survey by clicking here before you read the article (it gives away some answers), then write in the comments how well you did.
A new survey of Americans' knowledge of religion found that atheists, agnostics, Jews and Mormons outperformed Protestants and Roman Catholics in answering questions about major religions, while many respondents could not correctly give the most basic tenets of their own faiths. Read the rest by clicking here.
***IN OTHER NEWS…

Fourth Grader Barred from Recess Bible Reading
A five-year struggle for one Tennessee student's religious liberties entered a new legal phase on Tuesday.
In 2005, the then-10-year-old Karns Elementary student and a few classmates read and discussed their Bibles during a recess period. When an unnamed parent complained, the principal ordered the student-led study to be stopped.
The Alliance Defense Fund, representing the minor and his parents, Samuel and Tina Whitson, appealed the case this week after receiving a negative jury verdict and being denied a new trial.  The case now goes to the 6th U.S. Circuit Court of Appeals.
"Christian students shouldn't be prohibited from reading and discussing their Bibles at public schools during non-instructional time," said ADF Senior Counsel Nate Kellum.  "That continues to be our primary concern in this case. The Constitution does not prohibit Bibles during recess; it prohibits the banning of Bibles during recess."