If you've been reading this blog for any length of time, you know that I am no fan of guys carrying signs when attempting to get the "Word" out. In many ways, I think that the judgmental attitude of the sign carriers, as well as the "condemnation without cause" message of the signs, can actually do more harm than good. (Read a detailed analysis here.)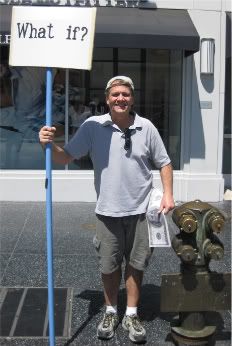 But there is a sign that I can recommend: The "What if?" sign.
Brett Coronado, one of the leaders at the most recent Ambassadors' Academy, the evangelism "bootcamp" from Way of the Master, came up with this. You simply stand in a busy place holding the sign. Eventually, the curious will come up to you and ask "What if?—what?"
Be creative. Have fun with your questions. Make sure, though, that you transition into a question that allows you to speak about the Gospel.
You can ask them a variety of questions:

What if the world ended tomorrow?
What if everything you know is wrong?
What if Paris Hilton is really a man?
What if they cancel American Idol?
What if you died today? Where would you go?
People will come up to you and ask about your sign. The fish will actually jump into your boat!
What if you tried this in your area?