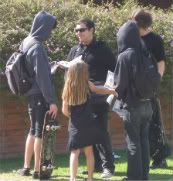 Every now and then I take my daughters to the campus of El Camino College where I share my faith on a weekly basis.
They are no idle participants.
Eight-year-old Laurel hands out Gospel tracts while her older sister D.D. takes students through entire Gospel presentations.
I'm very proud of my girls.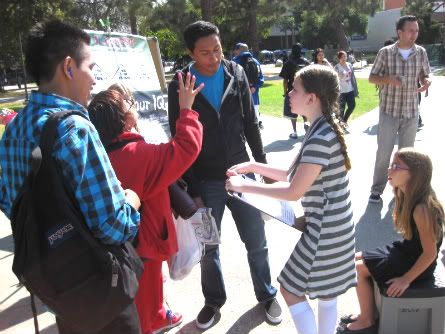 One benefit of having my kids on campus is that they get a true perspective of the world they live in—and the world they will grow up into.
We do not have cable television, enjoying instead all nine seasons of "Little House on the Prairie" on DVD. Rarely do we go to the movies. Rampant blasphemy and worldviews counter to our Christian values keep us away. There are very few video games; our kids actually enjoy playing with each other.
Our college excursions show my girls society as it really is, not as some Hollywood director chooses to portray it.
Sometimes they get an eyeful….
Recently, in the span of one hour, my girls watched me talk to a woman dressed like a guy—who felt that she really was a man in a woman's body.
They saw me shake hands and greet Lena with a smile, a man dressed like a woman.
Next I spoke to the two mothers of a toddler.
All of these people know I stand for Jesus, and that He's the only way.
My girls observed their Daddy loving those for whom Christ died.
Without limit.
They get the best college education money can't buy.
(This was first posted in 2009)