The end is near. The time is nigh. "All good things must come to an end."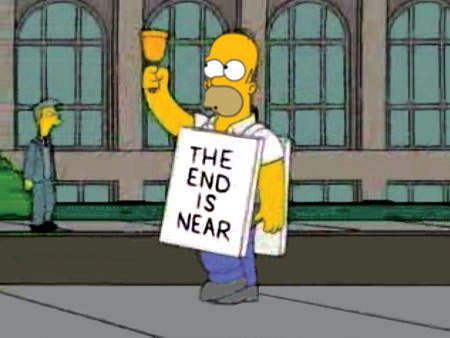 After twenty-five years of being affiliated with Hope Chapel Hermosa Beach, on January 1, 2016, that relationship comes to an end. Well, support-wise, that is.
I got saved there, met my wife there, got hired as a pastor there, dedicated my children there, discovered my gift as an evangelist there, and got the call to plant a church in Texas there.
I love everyone there.
Pastor Zac Nazarian, senior pastor of Hope Chapel, has been the most influential man in my life, encouraging me, counseling me and praying for me for over a quarter of a century.
The people called Hope Chapel have supported my family and I for a little over two years since we moved to Texas and we never lacked anything. But that support is ending as I knew it would someday.
The good news is this: The gracious and generous people of the new church I pastor, Community Church of the Hills, can support 2/3 of my salary. The other third will come out of a "Designated Fund" that will last me for about two more years. My wife had to get a job as a bus driver so she and our daughters would have medical benefits. I just signed up with Samaritan Ministries so my medical needs will be mostly covered.
So, now, may I ask a little help from my friends?
When I became pastor of Community Church of the Hills they were just a few weeks from shutting their doors. I'm the fifth pastor in 10 years so the financial situation was a bit unstable. They have not paid me yet, not because they didn't want to, but because the funds were just not there. Hope Chapel has graciously been paying me my salary for the last six months.
Still, we are a long ways off from where we need to be as a church financially (there are a lot of repairs needed), and this is where you come in, friends. Would you mind supporting this renewed work in the Hill Country of Texas? (If you need specific details, please email me at [email protected])
Here's how:
#1: You can support our church directly by simply giving an online (tax-deductible) donation here: http://communitychurchofthehills.org/giving/
#2: If you like to help our family directly, (we have experienced a multitude of financial set backs in Texas), you can send a (non-tax-deductible) "love gift" to:
The Sanchez Family
P.O. Box 1441
Johnson City, TX. 78636
Of course, we need your prayers, please. I send out a monthly prayer request newsletter that you can sign up for by clicking here: http://bit.ly/PraySanchez