Janie B. Cheaney penned this thoughtful article originally entitled "Permanently Offensive."
Atheists opposed to 9/11 cross may understand it better than some of its defenders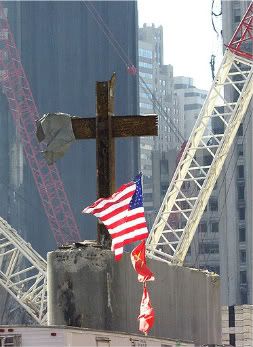 Two days after 9/11, workers going about the awful task of clearing away rubble and identifying bodies uncovered a 20-foot cross of steel beams, made by the fusing of structural remnants in the heat of the building's collapse. Pictures of it sprang up all over the internet. Workers made a practice of pausing there to pray and leave messages: God has not forgotten us, read one of them. Father Brian Jordan, a Franciscan priest, blessed the cross as a symbol of hope, faith, and healing. Like the Ark of the Covenant, the symbol moved several times over the years but is now slated for a permanent home at the National September 11 Memorial and Museum.
That's where the trouble starts, according to American Atheists, Inc. In a 19-page legal brief filed the last week of July, four individuals and the group at large claim that they have "seen the cross, either in person or on television, and are being subjected to, and injured in consequence of having, a religious tradition that is not their own imposed upon them through the power of the state." Defendants include Gov. Chris Christie, Mayor Michael Bloomberg, Father Jordan, and various entities involved with the museum. All these may have been surprised to learn that they were responsible for the plaintiffs' "dyspepsia, symptoms of depression, headaches, anxiety, and mental pain and anguish" owing to the trauma of feeling excluded from the ranks of the affected. The plaintiffs also claim that they were rebuffed in their offer to provide, at their own expense, a memorial honoring atheists who lost their lives on 9/11.
It's interesting to speculate on the content of such a memorial: "They died unbelieving to the last"? Click here to read the rest from WORLD Magazine.