It wasn't as epic as the struggle between Esau and Jacob, but two brothers, fraternal twins no less, fought to the very end to see who who would score the highest in the latest evangelism class that just ended.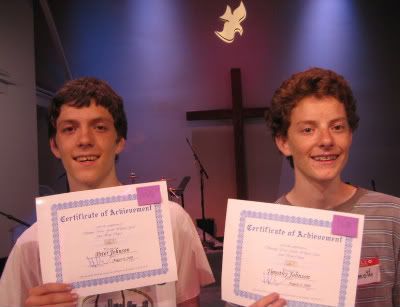 Timothy and Peter Johnson added up their score not knowing who had the highest tally, and at the climactic finish, Timothy won: 168 to 166. Timothy was also born two minutes ahead of his younger brother, so there was something very special—and uncanny—about the number two.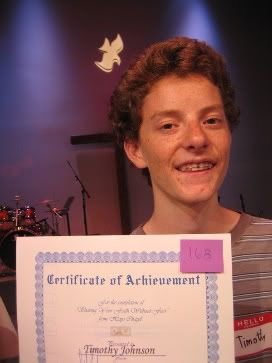 The twins now hold the distinction of being the youngest high-scorers—at age 16—of the Hope Chapel evangelism class. The competitition, with 49 people starting the class, ended with only 22. But they stuck it out to the finish. At stake for the winner was a stack of books, tracts, posters, and Ray Comfort CD's… OR… a Veg-o-Matic!
This is the Veg-O-Matic, the world-famous food appliance, ". . . the only appliance in the world that slices whole, firm tomatoes in one stroke, with every seed in place. French fries? Make hundreds in one minute! Isn't that amazing?!"
And now Timothy Johnson is the proud owner of this '60's gem.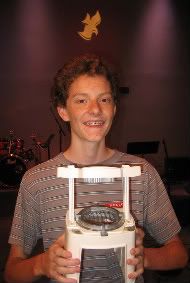 Won't Mom be proud?
BUT WAIT! THERE WAS A RECOUNT… AND ANOTHER WINNER! CLICK HERE TO FIND OUT WHO!
What's this scoring business about anyway? How did Timothy score those points?
In the class that I teach there are a number of incentives that I offer the students:
If they come to all 6 weeks of the class and just audit, they get a "Certificate of Completion."
If they want to earn points, they can. Here's how: (You can leave a comment and I'll send you a scoring sheet for your own evangelism class.)
Hand out one tract a day for the duration of the course and get one point a day.
Go out with the evangelism team and earn:
10 points for the first time out.
20 points for the second time out.
40 points for the third time out.
Listen to "Hell's Best Kept Secret", 2 points.
Listen to :"True and False Conversions", 2 points.
I also offer points for each time they share their faith verbally, and for doing the weekly Bible studies from the School of Biblical Evangelism.
In addition, I offer Bonus points. One point for every evangelism experience (E-vangie Tales), which are unlimited. I provide a posting each time a class starts called "What's Your E-vangie Tale?" for this purpose. They can essentially score as many points as they are motivated to try for.
Grading:
Under 69: FAIL.
70-79: Pass
80-89: Win a 10 Commandments poster.
90+: Win a 10 Commandments poster, The Rich Man and Lazarus 2 CD set, Militant Evangelism CD, and a "Titanic Sinking" poster.
High Scorer: Wins all of the above PLUS School of Biblical Evangelism Textbook w/101 evangelism Bible studies, AND an Evidence Bible, And a Sample Pack of tracts from Living Waters.
You can actually miss a few classes and be and get an "A". There's a reason for this: I'd prefer them to go out with the team 3 times, hand out tracts daily, and write of their experiences so that they can see how simple evangelism can be. If they get an "A", which is very easy to do, chance are that they will evangelize after the class is over.
Some come to the class to get head knowledge only, others come to learn how to evangelize. I accomodate both types, but provide incentives for them to actually go out with the teams where they will learn more anyway.
Questions? Leave a comment.