DAD ALWAYS SAID THAT GOD COULD BE A  BEER CAN.
That was the extent of my theological training. I now know better.
Things change.
20 years ago I would never have made the video below called "The Blasphemy Challenge 666."
Things change.
19 years ago, on December 2, 1990, everything changed….
I used to sell stereo equipment out of the back of my car in the desert. One night while searching for witches' covens in an open field at midnight, I challenged Satan to show himself.
He did.
I was also robbed at shotgun point by drug dealers (as a meth addict I didn't have much discernment in friends).
I knocked on the apartment doors of strangers looking for a wife; I found a lost key and tried opening locks with it. The television spoke directly to me. Then I got a very clear vision that I was headed for Hell if I didn't die….
Things change.
Such was my life before Christ. But things changed nineteen years ago when I understood that I needed a Savior.
I changed.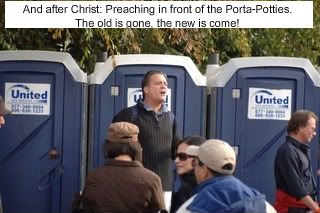 Revelation 12:11 says: "They overcame him by the blood of the Lamb and by the word of their testimony…"
Every evangelist—every Christian—has a testimony of what Christ has done in their life and should be able to articulate it in various lengths of time. I have a 30 second, 60 second, 5 minute, 10 minute, and 1 hour version.
My story is quite a roller coaster ride and I'd like to share it with you. This was presented to our congregation in the summer of 2003, six months before I made a commitment to share my faith everyday ( but that's another story).
CLICK HERE TO LISTEN! (You may need to refresh the link once or twice until it works.)