At what price have Christians kept their mouths shut?
History was made in the Senate last Thursday.
"Let us pray. We meditate on the transcendental glory of the deity supreme who is inside the heart of the Earth, inside the life of the sky, and inside the soul of the heaven." Those were the words of a chaplain with the Indian Association of Northern Nevada, Rajan Zed, who delivered the first Hindu prayer ever on the floor of the U.S. Senate.
The city on a hill is hidden…
The chaplain of the Family Research Council, Pierre Bynum, says Thursday's Hindu prayer was a major departure from the "thoughts and plans" of America's founding fathers. "We sing the song My Country 'tis of Thee, [saying] 'to Thee we sing.' The faith of our fathers, is being left behind," he contends, "and we're opening up to a bunch of religious ideologies and groups that were not part of our founding documents, were not part of our heritage." He said the farther America gets away from the faith of its founding fathers, the more troubled and confused the country will become.
…the salt thrown out… a nation soon to be trampled underfoot.
Look closely at what's missing on the new government issue dollar coins.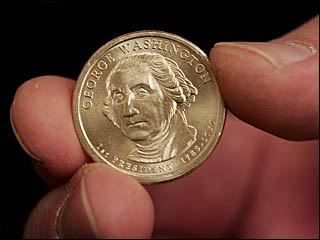 "In God We Trust?" I was just informed that it is there—on the edge, small and discreet (so no atheists will be offended?).
"I am the LORD, and there is no other.
I form the light and create darkness,
I bring prosperity and create disaster;
I the LORD, do all these things."
(Isaiah 45:7)
Todd Friel, the co-host of the daily Way of the Master radio show that teaches people how to witness using the Ten Commandments says the church in America has strayed from biblical evangelism.
He says modern Christianity has made the church the focus of evangelism. "Biblical evangelism used to be, 'go and make disciples; while going, make disciples.' [But] in the 21st century — with the best of intentions — instead of sending people out, instead we've turned the church into the evangelism arm.""We've been commanded to go," he emphasizes. "[We need to] stop using the church for the evangelism tool and start hitting the streets ourselves."
Who's to blame?
(Articles by OneNewsNow, with permission.)