"Sign Guys" are weird. And they always seem to sport a beard. What's up with them?
On Tuesday I asked what you thought about the message that this "Sign Guy" proclaimed at the Huntington Pier and got a whole variety of answers. Is he effective? Is his message biblical? Answers on booth counts: Yes.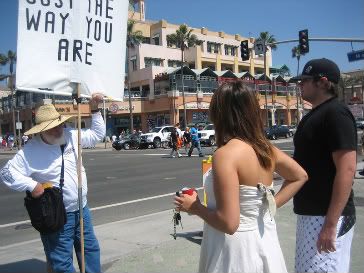 All day long people were asking him what his sign means; he would witness to them and give them his own homemade tracts. I was impressed. Is the message biblical? Click here to read why I think his message is biblical. It sure is better than those "God Loves You" and "God Hates You" signs.
I asked Ray Comfort what he thought about the sign guy. "I'll bet he's not in fellowship," Ray replied. I asked the "Sign Guy" what church he attends. "I don't go to church," he said.
Lesson learned: Most guys holding signs and sporting beards do not go to church. And they're a little weird.