Well, the tallies are in. Many have committed to sharing their faith everyday  by joining The Everyday Club. (You can sign up, too, by clicking here.) Guess how many signed up for the 2012 Club?
Wait. Before I get to that, let me make you an offer you can refuse: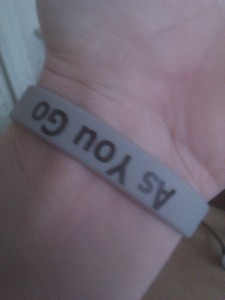 When you join The Everyday Club, in addition to getting 30 free Gospel tracts every month from the Bezeugen Tract Club, you will also get a free "As you go" wristband as a daily reminder to fulfill Christ's Commandment to GO! That's a $1.50 value!!! Click here to get the wristband.
Let them know you joined The Everyday Club when you sign up. (You can also enroll to get your 30 free monthly tracts there as well.)
How are you doing with your commitment so far this year? Report on your status in the comments below.
So….you wanna know how many signed up for 2012?
As of today, thirty.

What happened to the the other 150 or so who made a commitment in previous years? Maybe someone gave them one of these "GET OUT OF WITNESSING FREE" cards: