Someone once described blogging as a cruel mistress; I now understand why: The self-imposed obligation of daily postings, whether I'm tired or uninspired, is relentless.

On the other hand, I enjoy blogging immensely; it's my main hobby! Also, I love to share the exciting adventures that God continues to provide as our evangelists step out in faith. Never would I have imagined that I'd love sharing the truth of the Gospel so much.
Never would I have imagined that God would do such incredible things:From preaching with Ray Comfort,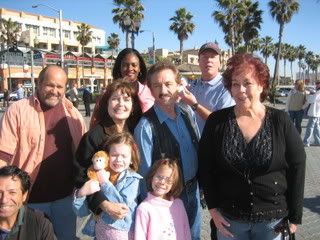 …to open air preaching at the Academy Awards…

…bus stops, 
… USC football games,
…even stoplights! 
And to see others sharing their faith was even more exciting:

We now have regular preachers every morning at various Departments of Motor Vehicles…
…and at the local Social Security office.
Our very own congregation of 1,500, Hope Chapel, handed out over a million Gospel tracts in 19 months!
The best part of all was seeing those who were lukewarm in their faith become on-fire Christians, due to their own obedience to Christ's command to "Go and preach the Good News to all creation." 
I am gratefully indebted to three people:
1) My wife Karen. She has had to endure much (since she is not an evangelist), due to my evangelistic experimententation and non-stop declarations of "the new thing God did today." Her constant prayers and belief in God for me has bolstered my courage and confidence in the Lord.
2) Ray Comfort. He has been such an enthusiastic support and blessing to the evangelism team and myself. His good humor, unflagging zeal, generosity, creativity and friendship have allowed us all to attempt to "do even greater things than these." 
3) My pastor (and boss), Zac Nazarian. He is a man who truly loves God and people. His confidence in the Lord for me, his prayers, counsel, and willingness to allow me to risk and make mistakes is a wonderful blessing. I can truly say that when one is permitted to operate fully in his spritual giftings, one can thrive.
So, God-willing, I will continue to blog daily, postings by noon, weekends off, because I want to share about how great our God is. As He continues to give us new opportunities and adventures, I will share them with you.
Please send me your adventures and photos, strange evangelistic encounters, atheist and sudden death stories, and anything else you think would fit in this blog. I love to hear about your risks and radical obedience to our Lord and Savior Jesus Christ.
We serve a God Who's great!
Let's all tell others in 2008!
It's amazing to think that it all started with a simple teaching called "Hell's Best Kept Secret."
(By the way, some upcoming adventures will include what happened on Hollywood Blvd. and the Rose Parade: The Demon Dog of Hollywood, Preaching at Pink's, another interview with the KIIS wannabe, and how I was almost arrested for being a counterfeiter and removed from the Metro Rail. Also, Port-a-Potty preaching and Parade-Gap preaching. Stay tuned.)