Meet Calvary Chapel Costa Mesa's evangelism pastor, Karl Corcoran. I met Karl in Ireland. Actually, he met me, and I wasn't even physically there! Huh?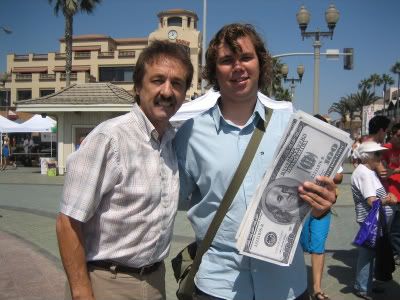 Somehow, he saw a YouTube video I had posted called "The Drop" (see it here). It showed how you can go into an ordinary restaurant and drop tracts on tables as people eat. All you have to do is greet them with a hearty, "Dinner's on me!" then drop the tracts in front of the diners and scurry away. He and his friend Dave replied with a video of their own performing "The Drop" in a Burger King in Ireland (see it here).
A month or so later, I'm at the Huntington Pier and I hear, "Hey Pastor Steve! I'm Karl, from Ireland." Small world. Now Karl is the evangelism pastor at the BIG Calvary Chapel, where the estimable Pastor Chuck Smith still leads his congregation. But the big news is this: Karl is putting on an evangelism conference called "The Awakening '08" on October 11.
It's an all day event featuring Ray Comfort, Emeal Zwayne, Mark Cahill and others. I'm planning on going. How about you? Get more info and register for the event by clicking here!