Why does this blog focus so much on the use of the 10 Commandments? Click here to read this article I wrote two years ago.

THE CAJUN TEN
#1: God is number one… and das all.
#2: Don't pray to nuthin' or nobody… jus' God.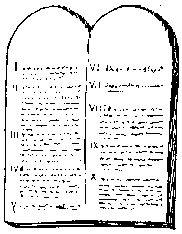 #3: Don't cuss nobody… 'specially da Good Lord.
#4: When it be Sunday… pass yo'self by God's house.
#5: Yo mama an' yo daddy dun it all… lissen to dem.
#6: Killin' duck an' fish, das' okay…people—NO!
#7: God done give you a wife… sleep wit' jus' her.
#8: Don't take nobody's boat… or nuttin' else.
#9: Stop lyin'… yo tongue gonna fall out yo mouf!
#10: Don't go wantin' somebody's stuff.
(Thanks to Mike Nash for this)