On March 29, 2006, a blog about Biblical evangelism went public; it's name was "E-vangie Tales and More." Of course, it's now called Stone the Preacher and after 2,229 posts, 14, 631 comments, and nearly 169,000 visits, it's now 5 years old!


Here's a little history of how it all came to be: When I first started sharing my faith on a daily basis back on January 1, 2004, I realized that people's reactions were interesting, funny, sometimes shockingly rude, and on occasion, threatening. I wrote about these experiences using humor and a fair amount of irony (with a dash of sarcasm), and sent them weekly, via email, to various members of my church congregation to encourage them to evangelize.
After hearing "Hell's Best Kept Secret," on July 31, 2005, my evangelistic adventures went through the roof. "Sinners" were actually interested in what I had to say about eternal things; they were concerned about Heaven and Hell, and many wanted to know the Savior. I wanted the Christian world to know about the excitement that comes when we obey Christ's command to "Go into all the world and preach the Good News to all creation." That's why I started this blog.

I want to encourage you to never give up sharing your faith; I want to offer new ideas for you to try where you live; I want to spur you on to love and good works.
In June of 2008 I changed the name of this blog to Stone The Preacher. (Click here to find out why, and here also. Who are those guys stoning me? Click here.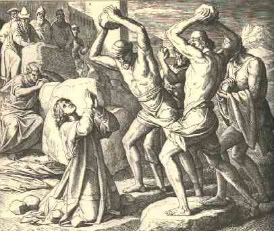 )
If I wanted a more popular site I could have chosen a lighter theme than Biblical Evangelism, but this is my life's purpose. (Click here to read why evangelism blogs will never be popular.) On this blog, you can count on the content being evangelism-related 90% of the time. There are very few pictures or videos of cute animals doing household chores or of darling children (unless I shamelessly pander for the purpose of drawing a larger audience, like this video), not many devotionals, and few debates on doctrinal issues (unless they are evangelism related)—I will leave that to the experts. No, what the world needs now is love, sweet love—love for the lost! I'll do my part to stimulate it. (Okay, there is another exception: Atheist Tuesdays. The unbelievers need a good dose of reason and coherence in addition to Ray Comfort's Atheist Central.)
Thanks for your support!
Read my very first public post here.

Read my very first "E-vangie Tale" here.
Read my first article after hearing Ray Comfort speak here.
Read the how I got started sharing my faith in the first place by reading "My Great Evangelism Adventure" here.