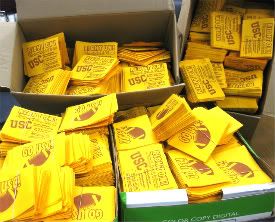 It's that time again to reach upwards of 100,000 people at the Los Angeles Coliseum where the Trojans will be playing for six games; we should be there for about four of them. Sadly, we are usually the only Christians sharing our faith—and we have 20,000 specially made USC Gospel tracts to hand out! Please, evangelists, join us in this fruitful labor. Meet at Hope Chapel at noon to carpool.
It's also time again to re-post this video:
Click here to read about our first big encounter  at this event from 2007!