I USED TO BE PRO-CHOICE, but not anymore. My life changed back in 1990 when I gave my life to Jesus Christ, and with that life change came a change of heart and a change of mind. I now value life: black lives, white lives, all colors, in fact. Men, women and alt-genders. Adults, kids, babies and the pre-born. Especially, the pre-born.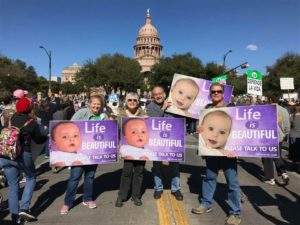 That's why I will participate in the "Texas Rally for Life" like I did last year when I marched with about 5,000 others to the Capital on behalf of women and men—those in-the-womb Americans of all colors. As a Christian, as a pastor, as an American citizen, as a fellow human being, I wanted to show my support to our State Legislature for all the pro-life bills they are passing. Like these:
The passage of 10 pro-life bills including Senate Bill 8 to shut down Planned Parenthood's trafficking of baby body parts,
The continued funding for the Alternatives to Abortion program, and
The continued defunding of Planned Parenthood. (32 clinics shut down in 2017.)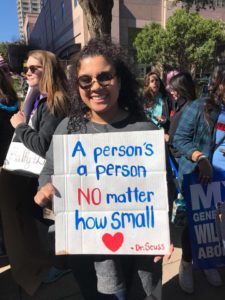 Numerous young people were there with this rallying cry: "My generation will end abortion." The demonstration was peaceful. No vulgar language. No obscene signs or images. No trash on the ground afterwards.
Columnist Rolley Haggard wrote,
"Pro-life activism is not a mission of the Church; it is the mission of the church because the mission of the church is loving people. If we are to be the Body of Christ we must care about "the least of these" as our Master did. That, or quit calling ourselves the church."
The Bible says, "Rescue those who are being taken away to death; hold back those who are stumbling to the slaughter. If you say, 'Behold, we did not know this,' does not he who weighs the heart perceive it? Does not he who keeps watch over your soul know it, and will he not repay man according to his work?
This is not an issue of women's rights, this is a matter of who has the right to determine if one lives or not.
Richard Hays says:
"It is inappropriate to set up the issue as a conflict of "rights": the rights of the woman versus the rights of the unborn child. In Scripture, there is no "right to life." Life is a gift from God, a sign of grace. No one has a …claim on it. Nor, on the other hand, do any of us—male or female—have a "right" to control our own bodies autonomously. . .. We are always accountable to God for our decisions and actions."
Today is Sanctity of Human Life Day, the day we remember that infamous decision 45 years ago when the Supreme Court made abortion legal. Since that time, close to 60 million babies have been aborted in our nation.
The human lives killed by abortion exceed the number of people living in California, Oregon, Washington, Nevada, and Utah combined. The total lives lost in all of America's wars is less than 1.5 million people, yet this is close to how many babies are killed each year!
Will you take a stand?
Aren't you glad that your parents were pro-life?
*Join us at the "Texas Rally for Life" in Austin on Saturday, January 27th. Meet at 18th and N. Congress at 1:00pm and then we'll march to the Capital. Or, you can carpool from the Highland Lakes Pregnancy Resource Center at 10:45AM, located at 1016 Broadway in Marble Falls.