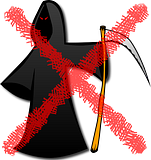 One man, an atheist of course, accused me of being a necromaniac; that is, one who has an abnormal tendency to dwell with longing on death (from Dictionary.com).
No.
I actually have an abnormal tendency to remind people of the fact that they can have eternal life.
Or eternal punishment in Hell.
I have a valid reason for posting these Sudden Death articles every week: to remind people that there is a Day of Judgment coming when God will make the pronouncement that one is either "Guilty" or "Not Guilty" after they die.
For some it may be years from now, for others, possibly tonight. Don't play that "Prove it" game with me. Your conscience continually reminds you that you have done wrong. You know the standard: The Ten Commandments. Break one and that's called sin. Sin one time and you're guilty deserving of Hell.
Yes, one lie makes you a liar; one theft a thief; one OMG makes you a blasphemer. Jesus says that one X-rated thought toward another is adultery, and hatred murder. You don't stand a chance. You will not just rot in the ground. You will not disappear out of existence. The Bible is clear: You will end up in Hell for all eternity. Unless…
Unless you repent of your sin and trust in Christ for forgiveness. While we were still sinners Christ died for us.
Will you trust him today?
Jonathan Edwards had a few words to say about God's creative ways in taking people out of this world and catapulting them into the next. Read his perspective by clicking here.