This is my baby Laurel celebrating her 10th birthday with a real, genuine C-note. That's right, one hundred fins. But she earned it! Wanna know how?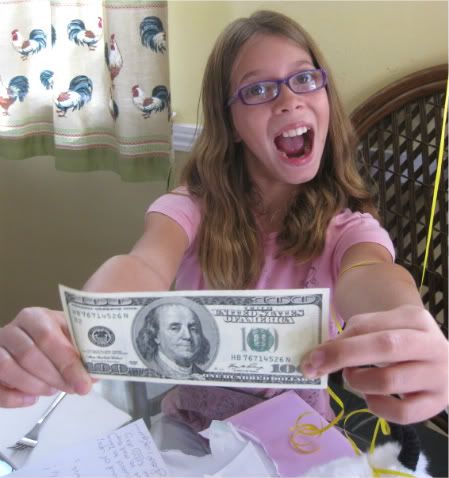 She read her Bible everyday.
Laurel read the entire New Testament and Proverbs in one year. She also read the Psalms twice.
We offer incentives to our girls to read their Bible everyday so that when they get older it will be an established pattern of behavior. We want them to hear what God says to them first thing in the morning.
But the main reason we want them to read everyday is…
Your commands make me wiser than my enemies,
   for they are ever with me.
 I have more insight than all my teachers,
   for I meditate on your statutes.
I have more understanding than the elders,
   for I obey your precepts.
I have kept my feet from every evil path
   so that I might obey your word.
 I have not departed from your laws,
   for you yourself have taught me.
 How sweet are your words to my taste,
   sweeter than honey to my mouth!
I gain understanding from your precepts;
   therefore I hate every wrong path.
We want her to know her Bible so that it will go well with her in life. We want her to know her Bible so that her behavior will be pleasing to God (and to her parents). We want her to know her Bible so that she will know God's will.
It's the best investment money can buy.
Train up a child in the way he should go;
even when he is old he will not depart from it.
(Proverbs 22:6)
P. S.: This was a bonus. For her birthday we gave her a rabbit, took her to Hometown Buffet, to the Go-Karts and then to see Puss N' Boots!
*****
See her demonstrate—as a 5-year-old—how to hand out Gospel tracts on an escalator by clicking here!
And read why she asked this question: "Daddy? Are you going to jail?" by clicking here!