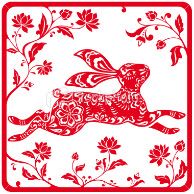 Goong He Faht Choy! is how you say "Happy New Year!" in Chinese and Chuc Mung Nam Moi! is how you say it in Vietnamese. Today is the beginning of the lunar year 4708 in those cultures, The Year of the Rabbit.
There is a special way to deliver the Gospel message if you live near an Asian community; to find out what it is, click here.
Two years ago at the Golden Dragon parade, a man tried to stop me from preaching to the grandstands by pinching my stomach. See it below. (This is another misadventure from Chinatown: When Things Go Wrong" )
Last year, many dignitaries got the Gospel handed to them by my daughters, including some notable Chinese actors. See who they are when you read Daughters, Dignitaries, and de Gospel.