The four policemen marched ominously toward the man standing on the box in front of Staples Center, riot helmets in hand.

This was not a good sign. On game three of the Lakers finals, would the evangelist preaching to the ticket-holders in line be arrested in effigy—made a scapegoat—for the hometown team's previous two losses?
I watched quietly as the small LAPD squad walked on by, oblivious to Chris the preacher. Trouble was narrowly averted—for now; but a short time later, things started to get very heated.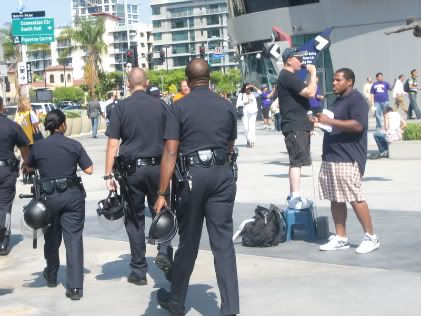 To the average Lakers' fan all evangelists must look the same: crazy, strange, wild-eyed…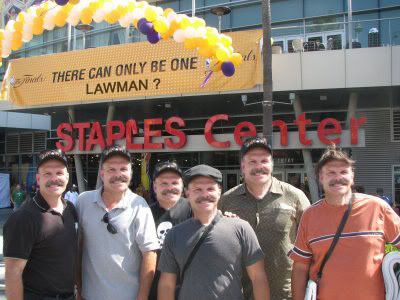 …always preaching the same old message: "Repent and trust in Jesus!"
And they'd be right.
The average person doesn't understand the importance of the Gospel message, and the urgency in which it needs to be preached. 104 people die every 60 seconds, the vast majority of them will end up in Hell. Who knows what could happen at this Lakers' Finals game?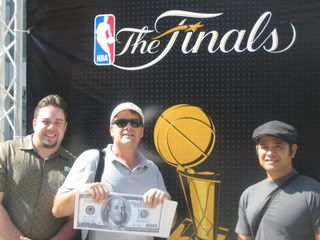 It might be the final game for many in attendance: Someone could choke to death on a hotdog during a rousing cheer; another might fall out of their loge seat onto unsuspecting fans below resulting in many tragic deaths; still others might have a sudden heart attack—should the Lakers actually win! Time is always of the essence.
But just as we wanted to be there to seek and to save the lost, others wanted us to get lost. And they tried hard to rid the area of the Good News Nuisances. The police relegated Ambassadors' Alliance leader, Tony Miano, to preaching between two potted plants. (Read Tony's version of events here.)
"Righteous Richard" Chavarria kept an eagle eye on the police to make sure that they didn't get out of line.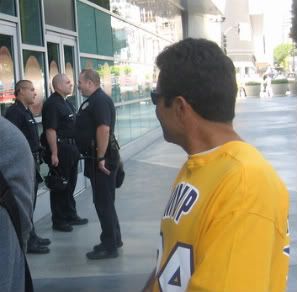 One man, Shane Griffin, got escorted off Staples' premises for just handing out tracts.
"Righteous Richard" took the brunt of the abuse this evening, though. While he preached atop a potted plant, a very serious and very determined LAPD officer shouted, "Get off of that!"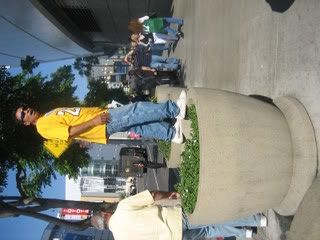 "Righteous Richard" hurriedly complied (that's why he's known as righteous).
Then the red-jacketed Security officials rousted him.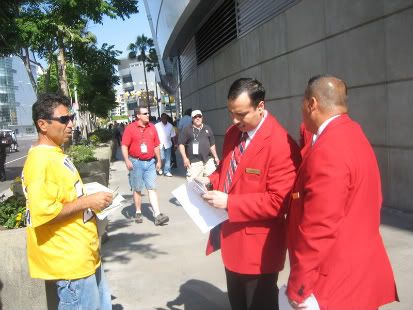 They even tried to scare him into relinquishing his First Amendment Right to hand out Gospel tracts. He was bold as a lion and stood up to them graciously, even when they threatened him with this statement: "If we see anyone carrying those in, we'll take them away!" The Redcoats are coming! The Redcoats are coming!
Next, an irate biblical-scholar-homeless man tried to shout him down with poorly parsed Greek hermeneutics.
But what really took the cake, was when "Righteous Richard" was accosted by two volunteer "District Safety" guys after he snapped a photo of a very large man.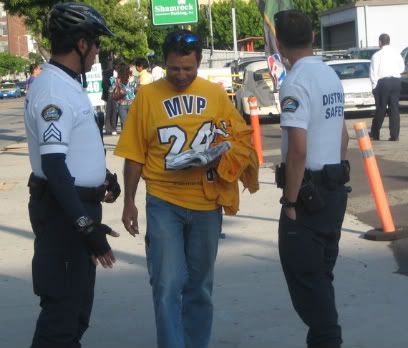 You see, I asked Richard to take this very large man's picture after he suddenly, forcefully, grabbed my shirt and pulled me off my three foot preaching perch… (Read Part 2 here!)